Incoming director-general aims to reinvigorate medial institution.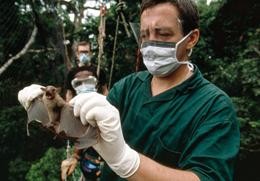 The International Medical Research Centre (CIRMF) in the former French colony of Gabon wants to have something to celebrate on its 40th birthday next year. Many hope that the centre's newly appointed director-general, Jean-Paul Gonzalez, can lead the institution — which fell into disarray in the 1990s — to a position of international excellence in global health research.
Gonzalez, from France's Research Institute for Development, will be charged with guiding the CIRMF's 157 staff and US$5-million annual research budget. The centre, based in Franceville in southeast Gabon, boasts research infrastructure that is rare in Africa, including a biosafety level 4 lab for working with the world's most dangerous pathogens, and has long been seen as having the potential to make a worldwide impact. It is funded largely by the French oil giant Total, which helped bring El Hadj Omar Bongo to power as Gabon's president in 1967. The centre was created jointly by the government and Total in 1979, as part of a deal giving France access to Gabon's oilfields.
But despite its healthy finances, the centre has largely been a white elephant, some say. "The CIRMF is a very well-funded institution that has not obviously delivered in terms of establishing a regional or international profile," adds one senior researcher in tropical disease at a leading African research centre, who asked not to be named. At the same time, he says, he understands all too well the difficulties and time involved in building up a field research centre in Africa. "The new director has plenty of scope for raising its profile and relevance," he explains.
Gonzalez took over on 1 September from Philippe Blot, who has been interim head since 2003. Blot was brought in with a remit to clean up after a turbulent period in the 1990s, when local management and expatriate researchers clashed repeatedly over administrative and other matters1. The situation persisted until around 2003–04, and was not helped by a constant staff turnover, including three director-generals in almost as many years, and a corruption scandal.
With Blot's efforts, the worst is now over and a culture of nepotism has been cleaned up, says Patrice Debré, head of the CIRMF's scientific board. But with all the past focus on administrative matters, the centre has not had a coherent research strategy, he says. "Research fell behind; there was no real scientific leadership. That's the leadership that Gonzalez's appointment will now bring."
Gonzalez wants the centre to focus on emerging infectious diseases, which is his own research background, and to become an international centre for research into Ebola virus, arboviruses and other novel pathogens. New labs set up at the centre over the past five years have notched up some success in this area, notably the discoveries that bats are a reservoir of both Ebola2 and Marburg3 viruses. The centre has also strengthened its retrovirology research.
"We are now in an ascendant phase for research, after a long period where that wasn't the case," says Gonzalez. He hopes to reinstate parasitology and malaria research, areas that were lost by staff departures. He also wants to add a new theme: how ecosystem biodiversity affects the emergence and transmission of disease. And, to complement the centre's existing tropical-forest stations, he plans to build a field station in the savannah in southern Gabon.
The common thread running through this strategy is to refocus the centre on its key strengths. Its location in an emerging-diseases hotspot makes it ideal for studying the emergence and transmission of diseases from primates to humans.
Furthermore, the CIRMF's primatology centre is among the largest in Africa. It contains around 450 primates, including gorillas, mandrills and macaques, half of them housed in a forest enclosure. "The natural hosts for SIV [simian immunodeficiency virus] and STLV [simian T-lymphotropic virus] and many other viruses are African primates," says Bettina Salle, the veterinary surgeon who runs the primate centre. "We have the ideal animal colonies and geographical location for research into the viruses in their natural hosts."
Debré notes that the centre can't begin to compete with international clinical research in retroviruses such as HIV, in part because it lies too far from major hospitals. So instead it hopes to capitalize on the current back-to-basics shift in AIDS research, to position itself as a place to study wild retroviruses in primates and carry out HIV research and vaccine trials in primate models.
The CIRMF should take advantage of the infrastructure provided by the government and by Total, says Debré, but balance that by pursuing outside, independent research funding. Gonzalez says he hopes to have obtained a 50% increase in the centre's research budget and staff by 2010. "A test of Gonzalez will be how successful he is here," says Debré.
One former CIRMF researcher praises Gonzalez's track record, but reckons the director-general faces an uphill battle. Salle is more optimistic: logistics and cultural challenges mean that working at the CIRMF is "not always easy", she says, "but we can do great things here. Gabon has a great tool for science."
References
Butler, D. Nature 394, 113 (1998).

Leroy, E. M. et al. Nature 438, 575–576 (2005).

Towner, J. S. et al. PLoS ONE 2, e764 (2007).
Related links
Related links
Related links in Nature Research
Related external links
About this article
Cite this article
Butler, D. Gabon centre refocuses on emerging diseases. Nature 455, 1157 (2008). https://doi.org/10.1038/4551156b
Published:

Issue Date:

DOI: https://doi.org/10.1038/4551156b