Metal cofactors are an essential part of many proteins. But how is the right choice of metal made? For bacteria, one answer is to change the cellular compartment where cofactor insertion occurs.
Access options
Subscribe to Journal
Get full journal access for 1 year
$199.00
only $3.90 per issue
All prices are NET prices.
VAT will be added later in the checkout.
Tax calculation will be finalised during checkout.
Buy article
Get time limited or full article access on ReadCube.
$32.00
All prices are NET prices.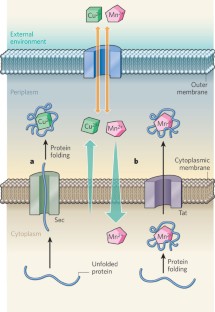 References
Holm, R. H., Kennepohl, P. & Solomon, E. I. Chem. Rev. 96, 2239–2314 (1996).

Tottey, S. et al. Nature 455, 1138–1142 (2008).

Irving, H. & Williams, R. J. P. Nature 162, 746–747 (1948).

Fraústo da Silva, J. J. R. & Williams, R. J. P. The Biological Chemistry of the Elements 2nd edn (Oxford Univ. Press, 2001).

Berks, B. C., Palmer, T. & Sargent, F. Adv. Microb. Physiol. 47, 187–254 (2003).

Ranquet, C., Ollagnier-de-Choudens, S., Loiseau, L., Barras, F. & Fontecave, M. J. Biol. Chem. 282, 30442–30451 (2007).

Butt, J. N., Niles, J., Armstrong, F. A., Breton, J. & Thomson, A. J. Nature Struct. Biol. 1, 427–433 (1994).

Zumft, W. G. & Kroneck, P. M. Adv. Microb. Physiol. 52, 107–227 (2007).
About this article
Cite this article
Berks, B. Cells enforce an ion curtain. Nature 455, 1043–1044 (2008). https://doi.org/10.1038/4551043a
Published:

Issue Date:

DOI: https://doi.org/10.1038/4551043a