In the first of a special series of election podcasts starting this week, Nature gathered an expert panel to discuss how energy and climate issues will play out in the US presidential election. Excerpts: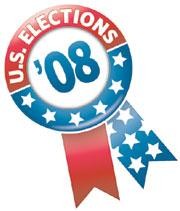 "The world has made transitions from one type of energy source to another … in the 75- to 125-year kind of timeframe. We don't have that luxury here. We have to hurry history."
Steve Cochran, Environmental Defense Fund, Washington DC
"However you want to cut it — if we're going to get serious about climate-change policy, we're going to have to change the prices of fossil fuels."
Joseph Aldy, fellow, Resources for the Future and co-director of the Harvard Project on International Climate Agreements, Washington DC
"We need … to identify in very concrete terms, not just in a sort of warm and fuzzy way, what new investments in the energy sector mean: where those dollars would go, where those jobs would be created, where an auto worker who is currently making an SUV will now be making a hybrid transmission."
"If we put too much money into energy R&D over too short a period of time, there is going to be waste."
Richard Newell, professor of energy and environmental economics, Duke University, Durham, North Carolina
"We need to have a diversified portfolio of R&D [and] we shouldn't pick just one winner. Having said that, let me pick a winner right now … carbon capture and storage."

Related links
Related links
Related links in Nature Research
About this article
Cite this article
The energy election. Nature 455, 12 (2008). https://doi.org/10.1038/455012b
Published:

Issue Date:

DOI: https://doi.org/10.1038/455012b