Abstract
Solar eclipses have been reported to have a strange influence on the behaviour of atomic clocks1 and pendulums2,3, which has been attributed to some unknown feature of gravity4. Here we correct this idea after being unable to detect any anomalous changes in the relative rates of three types of atomic clock, based on the ground-state hyperfine transitions of hydrogen, rubidium and caesium, during the solar eclipse of 11 August 1999 over central Europe.
Access options
Subscribe to Journal
Get full journal access for 1 year
$199.00
only $3.90 per issue
All prices are NET prices.
VAT will be added later in the checkout.
Rent or Buy article
Get time limited or full article access on ReadCube.
from$8.99
All prices are NET prices.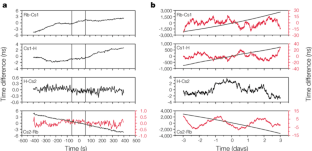 References
1

Zhou, S. W., Huang, B. J. & Ren, Z. M. Nuove Cimento C 18, 223–236 (1995).

2

Allais, M. Aero/Space Eng. 9, 46–55 (1959).

3

Saxl, E. J. & Allen, M. Phys. Rev. D 3, 823–825 (1971).

4

Eckhard, D. H. Phys. Rev. D 42, 2144–2145 (1990).

5

Jun, L. et al. Phys. Rev. D 44, 2611–2613 (1991).

6

Kuusela, T. Phys. Rev. D 43, 2041–2043 (1991).

7

Kuusela, T. Gen. Relativ. Grav. 24, 543–551 (1992).

8

Mishra, D. C. & Rao, M. B. S. Curr. Sci. 72, 782–783 (1997).

9

Turneaure, J. P., Will, C. M., Farrell, B. F., Mattison, E. M. & Vessot, R. F. C. Phys. Rev. D 27, 1705–1714 (1983).

10

Prestage, J. D., Tjoelker, R. L. & Maleki, L. Phys. Rev. Lett. 74, 3511–3514 (1995).
About this article
Cite this article
Udem, T., Reichert, J., Holzwarth, R. et al. Effect of the 1999 solar eclipse on atomic clocks. Nature 402, 749–750 (1999) doi:10.1038/45442
Comments
By submitting a comment you agree to abide by our Terms and Community Guidelines. If you find something abusive or that does not comply with our terms or guidelines please flag it as inappropriate.