Meiotic recombination shuffles the genome, so each generation inherits a new combination of parental traits. Combining traditional and modern approaches, new work pinpoints where recombination occurs genome-wide.
Access options
Subscribe to Journal
Get full journal access for 1 year
$199.00
only $3.90 per issue
All prices are NET prices.
VAT will be added later in the checkout.
Tax calculation will be finalised during checkout.
Buy article
Get time limited or full article access on ReadCube.
$32.00
All prices are NET prices.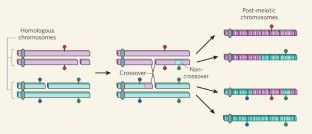 References
Mancera, E., Bourgon, R., Brozzi, B., Huber, W. & Steinmetz, L. M. Nature 454, 479–485 (2008).

Fogel, S., Mortimer, R., Lusnak, K. & Tavares, F. Cold Spring Harb. Symp. Quant. Biol. 43, 1325–1341 (1979).

Wei, W. et al. Proc. Natl Acad. Sci. USA 104, 12825–12830 (2007).

Pan, J. & Keeney, S. PLoS Biol. 5, e333 (2007).

Bishop, D. K. & Zickler, D. Cell 117, 9–15 (2004).

Mortimer, R. K. & Fogel, S. in Mechanisms in Recombination (ed. Grell, R. F.) 263–275 (Plenum, 1974).

Malkova, A. et al. Genetics 168, 49–63 (2004).

Borts, R. H. & Haber, J. E. Science 237, 1459–1465 (1987).
About this article
Cite this article
Lichten, M. Thoroughly modern meiosis. Nature 454, 421–422 (2008). https://doi.org/10.1038/454421a
Published:

Issue Date:

DOI: https://doi.org/10.1038/454421a