Science illustrators are in demand. Artists create images for books, posters and museum displays. In the film industry, talented concept artists design animals and fantasy creatures.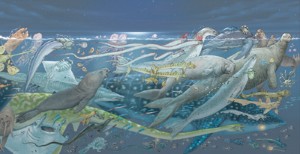 Forty years ago, the first meeting of the Guild of Natural Science Illustrators at the Smithsonian Institution, Washington DC, drew only a handful of local participants. The guild now has almost 1,000 members and, next week, hundreds will converge on Ithaca, New York, for the 2008 conference. Through workshops, lectures and field trips, "traditional artists using pencil, crowquill pens, and watercolour will come together with those on the edge of the latest computer software doing reconstructions and 3D animations", says Gretchen Halpert, the guild's president.
Terryl Whitlatch, a speaker at this year's conference, used her zoology training to design the monkeys and zebras for the 1995 fantasy film Jumanji. Her initial images were based on realistic skeletal, muscle and surface anatomy features that were then transformed into the three-dimensional computer-generated images seen in the film.
Whitlatch went on to invent alien creatures for the 1999 film Star Wars Episode I: The Phantom Menace. "I took ideas from animals and incorporated them into the world of fantasy art," she says. "I make sure the anatomy of a creature is matched with its environment to make it believable." The character of Jar Jar Binks, which was almost entirely computer generated for the film, was based on Whitlatch's combination of the duck-billed dinosaur, or hadrosaur, a frog, a parrot fish for skin patterns and markings, and an emu for the character's walk and stance.
Whitlatch creates her art with traditional techniques, then scans the artwork and enhances it with computer software. "The computer can't do it all for you," she says. "It's still just a tool like pencil and paper."
Keynote speaker Warren D. Allmon is not an artist, but an invertebrate palaeontologist. Scientific illustrators are "especially important in palaeontology, which is a mixture of science, inspired guesses, and artistic creativity to form a picture of what animals may have once looked like". The images can also help kids to think about how scientists do palaeontology, he explains. Reconstructing ancient worlds will be the focus of another keynote speaker, James Gurney, author and illustrator of Dinotopia: A Land Apart From Time (HarperCollins, 1992) and the artist behind the World of Dinosaurs series of US postage stamps.
Science illustrators claim that the origin of their craft dates back to prehistoric cave drawings. Medieval physicians, alchemists, naturalists and early scientists — including Newton and Galileo — used etchings and engravings to supplement their manuscripts. One of the best examples is Robert Hooke's Micrographia. Published in 1665, it introduced readers to the microscopic world through its detailed drawings.
"Historically, most illustrators have worked in isolation," adds Halpert. "The formation of the guild helped us learn what others were doing. What many think of as disparate vocations [science and art] have always been two sides of the coin."
About this article
Cite this article
Thomas, N. Science artists draw together. Nature 454, 278–279 (2008). https://doi.org/10.1038/454278a
Published:

Issue Date:

DOI: https://doi.org/10.1038/454278a