Geologist claims personal views led to job denial.
A prominent Turkish geologist is being denied a top spot in the nation's higher-education system because, he says, his political views are out of step with those of the current government.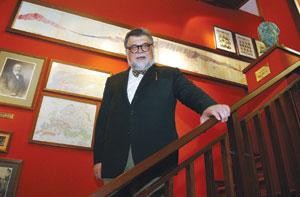 Celâl Şengör (pictured), a professor at Istanbul Technical University, says that he has been blocked from joining Turkey's council of higher education (YÖK) and subjected to spurious ethics investigations because he has spoken out against the government. "There is an atmosphere of terror," he says. "It's unbelievable what's going on."
YÖK is a 21-member council that oversees Turkey's universities. One-third of the council is nominated by the inter-university board — a group of university rectors and other academic representatives. In January, the board advanced Şengör's name for a position on YÖK. The reason for the nomination was straightforward, says Mustafa Akaydin, who heads the inter-university board. "He's a good guy, a very well-known intellectual in Turkey."
Nominations typically pass through a straightforward approval process, but Şengör says that YÖK's leadership is holding up his candidacy. This spring, he says, the leadership opened an investigation into a previously dismissed ethics charge concerning Şengör's ties to a family business. Then, just last week, Şengör says he was informed of a second investigation into his having allegedly travelled abroad without university approval. Şengör believes that he is being persecuted because he is an outspoken critic of Turkey's current, Islamist-rooted AKP ruling party. "They want to get rid of anybody who is against them," he says.
Şengör has also spoken out publicly against YÖK's newly appointed president, Yusuf Ziya Özcan, a US-trained sociologist. In the Turkish press he has stated that Özcan is not qualified to be an assistant professor, let alone head of Turkey's higher-education council. "I simply said that this man is incompetent," Şengör says.
Such blunt statements have probably not endeared him to YÖK's leadership, says Şevket Ruacan, former head of Tübitak, Turkey's national science research agency. Nevertheless, Ruacan says that the inter-university board's nomination should be respected. "The president has no option but to appoint Celâl," he says.
Özcan declined Nature's request for an interview.
Related links
Related links
Related external links
About this article
Cite this article
Brumfiel, G. Turkish politics blamed for board block. Nature 454, 6–7 (2008). https://doi.org/10.1038/454006b
Published:

Issue Date:

DOI: https://doi.org/10.1038/454006b