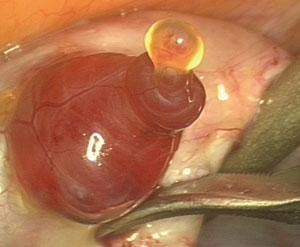 A human egg is caught on camera as it emerges from a woman's ovary. It is one in a series of the clearest ever images of the ovulation process and was accidentally snapped by surgeon Jacques Donnez, of the Catholic University of Louvain in Brussels, as he performed a hysterectomy. The yellowish egg (about the size of this dot ·) is seen exiting a red, fluid-filled follicle on the surface of the 45-year-old woman's ovary.
Ovulation took a full 15 minutes — much slower than the sudden 'explosive' process suggested by some theories. Although human ovulation has never been seen in such detail before, it is a process that occurs at least once a month in fertile women. On release, an oocyte travels along a fallopian tube to the uterus.
These rare images, which appeared in New Scientist magazine last week, will be published in the journal Fertility and Sterility (J.-C. Lousse and J. Donnez doi:10.1016/j.fertnstert.2007.12.049).
About this article
Cite this article
Out of the ovary. Nature 453, 965 (2008). https://doi.org/10.1038/453965a
Published:

Issue Date:

DOI: https://doi.org/10.1038/453965a