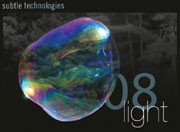 The many shades of light in art and science are the focus of the annual Subtle Technologies Festival in Toronto, Canada, starting this week. A symposium (from 30 May to 1 June) will discuss the physics of light, its use in education, photography, performance, new media and architecture. Sound artists muse about synaesthesia; a physicist explains why painters love the light in Provence, France; and a biologist describes how to image cells.
Gardeners are the canaries of climate change: first to notice buds blooming early, lawns that need mowing more often and pests spreading in range as average temperatures creep up. This week's Chelsea Flower Show in London (until 24 May), run by the Royal Horticultural Society, includes scientific exhibits to educate plant lovers about climate change. UK researchers from the Tyndall Centre in Norwich, the University of Reading, Rothamsted Research in Harpenden, and others will be on hand to explain how plants, ecosystems and practices must adapt.
An exploration of what it means to be human in a rapidly changing world and vast Universe is the theme of the 55th Carnegie International. The largest US survey of contemporary art, it opened this month at Pittsburgh's Carnegie Museum of Art (until January 2009). Life on Mars, named after David Bowie's song, offers 300 works from 40 international artists, including Vija Celmins, who received the US$10,000 Carnegie Prize for her Night Sky series of paintings.
About this article
Cite this article
Culture dish. Nature 453, 453 (2008) doi:10.1038/453453b
Comments
By submitting a comment you agree to abide by our Terms and Community Guidelines. If you find something abusive or that does not comply with our terms or guidelines please flag it as inappropriate.