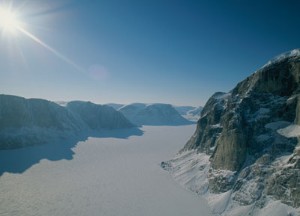 The Hitchhikers Guide to the Galaxy ascribes the pleasing depth and drama of Earth's fjords to an alien planetary engineer named Slartibartfast. A model produced by Mark Kessler at the University of Colorado in Boulder and his colleagues captures a more plausible sculptural process involving only ice and mountain ranges. The researchers show that a tendency for ice to flow through existing mountain passes deepens these passes, reinforcing the original tendency. This feedback can lead to the carving of kilometre-deep fjords in a million years.
Their model also suggests that once a landscape is equipped with fjords its ice caps will be smaller and more sensitive to climate change, as it is easier for the ice to get away.
About this article
Cite this article
Geology: Fjord focus. Nature 453, 430 (2008) doi:10.1038/453430a
Comments
By submitting a comment you agree to abide by our Terms and Community Guidelines. If you find something abusive or that does not comply with our terms or guidelines please flag it as inappropriate.