Determination of the architecture of an invertebrate photoreceptor protein, squid rhodopsin, is a notable event. It illuminates the mechanism of invertebrate vision and a ubiquitous intracellular signalling system.
Access options
Subscribe to Journal
Get full journal access for 1 year
$199.00
only $3.90 per issue
All prices are NET prices.
VAT will be added later in the checkout.
Tax calculation will be finalised during checkout.
Buy article
Get time limited or full article access on ReadCube.
$32.00
All prices are NET prices.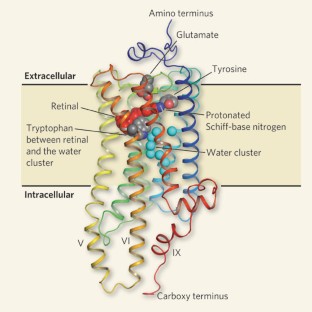 References
Hardie, R. C. & Postma, M. in The Senses: A Comprehensive Reference Vol. 1 (ed. Basbaum, A. I.) 77–130 (Academic, San Diego, 2008).

Murakami, M. & Kouyama, T. Nature 453, 363–367 (2008).

Hardie, R. C. & Raghu, P. Nature 413, 186–193 (2001).

Davies, A. et al. J. Mol. Biol. 314, 455–463 (2001).

Murakami, M., Kitahara, R., Gotoh, T. & Kouyama, T. Acta Crystallogr. F 63, 475–479 (2007).

Kobilka, B. & Schertler, G. F. Trends Pharmacol. Sci. 29, 79–83 (2008).

Li, J. et al. J. Mol. Biol. 343, 1409–1438 (2004).

Melyan, Z., Tarttelin, E. E., Bellingham, J., Lucas, R. J. & Hankins, M. W. Nature 433, 741–745 (2005).

Hankins, M. W., Peirson, S. N. & Foster, R. G. Trends Neurosci. 31, 27–36 (2008).
Ethics declarations
Competing interests
Gebhard F. X. Schertler is a shareholder of, and scientific adviser to, Heptares Therapeutics, 1-3 Burtonhole Lane, Mill Hill, London NW7 1AD, UK (http://home2.btconnect.com/heptares/). This company is involved in research on G-protein-coupled receptors and drug design.
About this article
Cite this article
Schertler, G. The rhodopsin story continued. Nature 453, 292–293 (2008). https://doi.org/10.1038/453292a
Published:

Issue Date:

DOI: https://doi.org/10.1038/453292a