Board members reject billionaire's plans.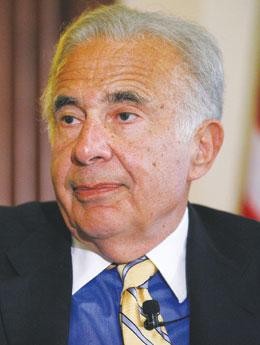 The latest chapter in the battle over Biogen Idec, a prominent US biotechnology firm, ended last week when shareholders rejected billionaire investor Carl Icahn's bid to oust three members of the company's board of directors. The decision was a clear defeat for Icahn's plan to gain control of the company, which is based in Cambridge, Massachusetts, and a victory in Biogen's struggle to remain independent.
The fight between Icahn (pictured) and Biogen began last August, when Icahn announced that he had acquired 1% of the company's stock, making him one of its biggest investors. At first, Biogen officials weren't sure what to make of the news, says Naomi Aoki, Biogen's director of public affairs. Icahn is a classic corporate raider, known for gaining control of companies and then forcing them to take actions that increase the value of their stock. Over the past 30 years, Icahn has compelled many of his investments to sell their assets altogether.
"We knew his reputation," says Aoki. "But I don't think it was clear to us right from the beginning how everything would play out."
Icahn's goals fit cleanly with the drug industry's rising demand for biotechnology companies. In April 2007, pharmaceutical giant AstraZeneca surprised analysts by paying US$15 billion for MedImmune, a Maryland-based biotechnology company. Icahn, a MedImmune shareholder, later acknowledged that he had pressured MedImmune's board to sell, and had threatened a hostile takeover if the company did not comply. Biogen, a 30-year-old company with several candidate drugs in the pipeline, is worth $23 billion.
In October, Biogen announced that it would accept offers from firms interested in buying the company. It called off the hunt for a purchaser in December, saying that no one had come forward. Icahn accused Biogen of interfering with the search, sued the company for access to records pertaining to the failed sales process, and announced that he was nominating three candidates to the board of directors. It would have been the first step in a two-part plan to gain control of the board that would have been completed next year when four more seats on the 12-member board became available for re-election.
In a memo to shareholders issued two weeks before the vote, Icahn accused Biogen of lying to them about its attempts to sell the company. Biogen issued a letter of its own, saying in bold-faced capital letters: "Do not be misled by Carl Icahn."
On 19 June, a preliminary tally of shareholder votes showed that Biogen had won this round. Icahn has not said what his next move will be, and was not available for comment. But he now controls 4% of the stock and has said that he has some of the top ten investors on his side, suggesting that Biogen's battles may not be over.
Related links
Related links
Related links in Nature Research
Related external links
About this article
Cite this article
Ledford, H. Biogen fights takeover bid. Nature 453, 1149 (2008). https://doi.org/10.1038/4531149a
Published:

Issue Date:

DOI: https://doi.org/10.1038/4531149a