The state of California is clamping down on companies that offer direct-to-consumer genetic testing in a move that threatens the burgeoning industry. Meredith Wadman looks at a grey area in US regulation.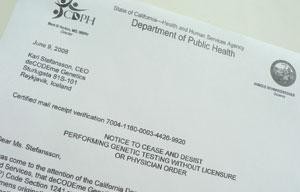 Last Wednesday, as California governor Arnold Schwarzenegger prepared to tell a biotechnology industry convention in San Diego that his state "is one of the best places to set up shop", Kári Stefansson was opening a letter that had just landed on his desk at deCODE genetics in Reykjavik, Iceland.
The letter read: "It has come to the attention of the California Department of Public Health…that deCODEme Genetics is in violation of California law" for failing to have a clinical laboratory licence in the state and offering genetic tests to consumers resident in the state without a physician's order. It gave deCODE until 23 June to submit a plan showing how it would correct the situation, or face "civil and/or criminal sanctions".
Stefansson's high-profile company is one of 13 genetic-testing firms that have been targeted during the past two weeks by the California agency with a letter to "cease and desist" selling tests to California's residents. The directive poses a serious challenge to plans for a new era of Internet-based, direct-to-consumer genetic testing. The companies include Californian businesses 23andMe and Navigenics, which have begun marketing test packages based on genome-wide arrays within the past six months, and DNATraits.com, based in Houston, Texas, which counsels prospective parents on the genetic risks faced by their future offspring.
DNA Direct, a San Francisco-based firm founded in 2003 that offers tests for familiar mutations in well-characterized genes such as BRCA1 and BRCA2, which convey an increased risk of breast cancer, did not receive a letter.
"If these companies were constrained from reaching out to consumers directly, it would certainly cause some near-term difficulty for their business," says life-sciences analyst John Sullivan at Leerink Swann, an investment bank based in Boston.
During a public meeting on 13 June, Karen Nickel, California's chief of laboratory field services, who wrote the letter, said that consumer complaints had triggered an investigation into 25 companies, of which 13 were ultimately sent letters. Nickel told the meeting: "We [are] no longer tolerating direct-to-consumer genetic testing in California." Under California law, the companies could be fined up to US$3,000 per day for each violation if there is no "immediate jeopardy" to state residents — and from $3,050 to $10,000 per day if there is.
23andMe declined an interview request. It released a statement emphasizing that it is an "informational service", and said it is "eager to work with" regulators in California and elsewhere to develop appropriate regulations to govern the nascent industry.
But two of the companies dispute the charges in the letter. Mari Baker, chief executive of Navigenics, based in Redwood Shores, says that its tests are read by a licensed, certified laboratory and that a company physician is involved both in the approval of a genetic-test order and when the results are released to a customer. "It's important to do this the right way," says Baker. "And that we are doing. So this has come as quite a surprise. The only conclusion we can come to is we have not properly informed the state as to all the steps we have in place. We have reached out to them to try to schedule such a meeting."
Stefansson says that deCODE is not marketing to California residents; its website lists California among several states for which the company's deCODEme Genetic Scan "may omit certain information" because of state law. He says that his company is in the process of trying to obtain a California licence, but that the state has been unresponsive. He is a physician and oversees the ordering process for deCODE, he says, adding that a large proportion of the test requests the company receives are from people's personal physicians.
"It doesn't increase your risk. It measures your risk. "
Even so, he calls the legality of California's requirement that a physician order a genetic test "questionable". He says: "I don't think that they can basically tell the people of California that 'you cannot order a test like this for yourself without going to a physician'. I don't think they can raise that kind of barrier." He argues that a genetic test is not a medical intervention like, say, a prescription for a cholesterol-lowering drug. "It doesn't increase your risk. It doesn't decrease your risk. It measures your risk. It's a description of who you are."
The state Department of Public Health —which is no longer making Nickel available for interviews — declined to say whether a company-employed physician who oversees orders initiated by customers through the Internet would meet its requirement that a physician order the genetic test.
That has been a grey area among regulators and policy-makers, says Kathy Hudson, director of the Genetics and Public Policy Center at Johns Hopkins University in Washington DC. "Is a doctor who is your personal physician, who has a fiduciary responsibility to you, the same as a company doctor? Is it really the same thing to call up a company who is trying to sell you a product and have their doctor, who receives a pay-cheque from them, advise you? To me, it is not the same thing."
The Californian law does not prevent state-based companies from marketing the tests to consumers residing outside the state. But a muddle of different state laws across the United States provides a confusing array of regulations on the issue.
New York's Department of Public Health has sent similar letters to 26 companies since last November. In response, 23andme and Navigenics have submitted business plans that the department is reviewing, says its spokesman Jeffrey Hammond. "The good news for both 23andme and Navigenics is the labs they are proposing they use for their lab work are known to the department and have a history of compliance with us." Hammond adds: "Our goal is not to levy fines. It is to bring companies who want to do business in New York into compliance with state law."
Hudson says that the California and New York letters point out the conspicuous lack of unifying federal regulation of genetic testing. The law "is very inconsistent from state to state at a time when the risks to consumers do not vary state to state — and when we have businesses that are certainly operating state to state".
Ryan Phelan, chief executive of DNA Direct, says that the one-size-fits-all approach of the letters is a cause for concern, because tests being offered range from those predicting serious diseases to "fun to know" information with no bearing on a person's health. "There is going to be increasingly a need for nuanced regulation. All genetic tests should not be considered the same."
Related links
Related links
Related links in Nature Research
Related external links
About this article
Cite this article
Wadman, M. Gene-testing firms face legal battle. Nature 453, 1148–1149 (2008). https://doi.org/10.1038/4531148a