To perceive seasons, animals compare changes in day length with the constant cycle of their inner circadian clock. At a molecular level, light signals trigger coordinated gene-expression events in the brain.
Access options
Access options
Subscribe to Journal
Get full journal access for 1 year
$199.00
only $3.90 per issue
All prices are NET prices.
VAT will be added later in the checkout.
Rent or Buy article
Get time limited or full article access on ReadCube.
from$8.99
All prices are NET prices.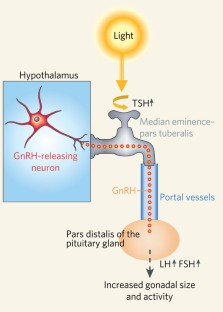 References
1

Pittendrigh, C. S. Proc. Natl Acad. Sci. USA 69, 2734–2737 (1972).

2

Nakao, N. et al. Nature 452, 317–322 (2008).

3

Dunlap, J. C., Loros, J. J. & DeCoursey, P. J. (eds) Chronobiology: Biological Timekeeping (Sinauer, Sunderland, MA, 2004).

4

Yoshimura, T. et al. Nature 426, 178–181 (2003).

5

Horstmann, E. Z. Zellforsch. 39, 588–617 (1954).

6

Rodríguez, E. M. et al. Int. Rev. Cytol. 247, 89–164 (2005).

7

Stoeckel, M. E., Hindelang-Gertner, C. & Porte, A. Cell Tiss. Res. 198, 465–476 (1979).

8

Bockmann, J. et al. Endocrinology 138, 1019–1028 (1997).

9

Nicholls, T. J., Goldsmith, A. R. & Dawson, A. Physiol. Rev. 68, 133–176 (1988).

10

Ishida, A. et al. Cell Metab. 2, 297–307 (2005).
Further reading
Aldo Giudice

,

Michele Caraglia

,

Monica Marra

,

Maurizio Montella

,

Nicola Maurea

,

Alberto Abbruzzese

&

Claudio Arra

Expert Opinion on Therapeutic Targets (2010)

Patrick Lehodey

,

Inna Senina

&

Raghu Murtugudde

Progress in Oceanography (2008)
Comments
By submitting a comment you agree to abide by our Terms and Community Guidelines. If you find something abusive or that does not comply with our terms or guidelines please flag it as inappropriate.