To perceive seasons, animals compare changes in day length with the constant cycle of their inner circadian clock. At a molecular level, light signals trigger coordinated gene-expression events in the brain.
Access options
Subscribe to Journal
Get full journal access for 1 year
$199.00
only $3.90 per issue
All prices are NET prices.
VAT will be added later in the checkout.
Tax calculation will be finalised during checkout.
Buy article
Get time limited or full article access on ReadCube.
$32.00
All prices are NET prices.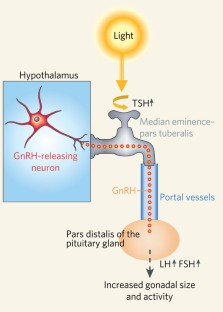 References
Pittendrigh, C. S. Proc. Natl Acad. Sci. USA 69, 2734–2737 (1972).

Nakao, N. et al. Nature 452, 317–322 (2008).

Dunlap, J. C., Loros, J. J. & DeCoursey, P. J. (eds) Chronobiology: Biological Timekeeping (Sinauer, Sunderland, MA, 2004).

Yoshimura, T. et al. Nature 426, 178–181 (2003).

Horstmann, E. Z. Zellforsch. 39, 588–617 (1954).

Rodríguez, E. M. et al. Int. Rev. Cytol. 247, 89–164 (2005).

Stoeckel, M. E., Hindelang-Gertner, C. & Porte, A. Cell Tiss. Res. 198, 465–476 (1979).

Bockmann, J. et al. Endocrinology 138, 1019–1028 (1997).

Nicholls, T. J., Goldsmith, A. R. & Dawson, A. Physiol. Rev. 68, 133–176 (1988).

Ishida, A. et al. Cell Metab. 2, 297–307 (2005).
About this article
Cite this article
Okamura, H. Brain comes to light. Nature 452, 294–295 (2008). https://doi.org/10.1038/452294a
Published:

Issue Date:

DOI: https://doi.org/10.1038/452294a