Scribbles on the margins of science.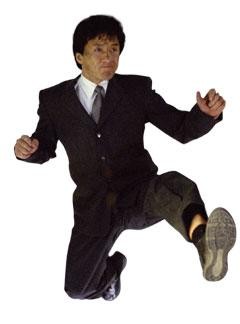 Martial-arts legend Jackie Chan has opened a science-education centre to showcase medical research at the Australian National University, located in Canberra, where his family moved in 1962 and he was first nicknamed Jackie. Let's hope the centre gives public science a healthy kick.
"From today, we're known simply as IUCN," trumpets a press release from the organization once confusingly known as IUCN: The World Conservation Union. Handily pasted underneath is a French translation describing how the organization will henceforth be known simply as UICN …
5 micrometres is the diameter of the world's smallest diamond ring, created by Australian physicists.
300 nanometres is the thickness of the ring, an elegant plain band of pure synthetic diamond, rather than the traditional stone set in gold.
0 is the number of brides-to-be who will benefit — the nanoscale ring is strictly for studying single photons. But what Sidelines wants to know is: would it still cost a month's salary?
Kenya's Wildlife Service is giving free entry to under-18s visiting its world-famous national parks until 30 April as a way of "thanking Kenyans for keeping wildlife safe" during the country's recent post-election riots.
Sources: IUCN, Am. Inst. Phys., Environment News Service, Sydney Morning Herald
About this article
Cite this article
Sidelines. Nature 452, 264 (2008). https://doi.org/10.1038/452264a
Published:

Issue Date:

DOI: https://doi.org/10.1038/452264a