The International Atomic Energy Agency is wrapping up its inquiry into Iran's nuclear activities and is expected to report its findings on 20 February. Declan Butler analyses how close the state is to nuclear weapons capability.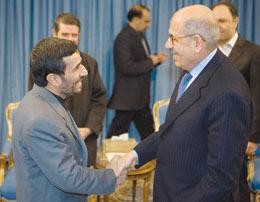 In 2003, Iranian opposition groups identified the physics research centre at Lavizan-Shian in northeastern Tehran as a clandestine nuclear facility. But by the time inspectors from the International Atomic Energy Agency (IAEA) got to the site in June 2004, Iran had bulldozed the facility to the ground, meticulously cleaned the site and removed all the topsoil.
Equipment from the centre later turned up at a university and IAEA inspectors found that it was contaminated with particles of highly enriched uranium HEU). What work went on at Lavizan-Shian is one of numerous questions (see 'A mine of activity') to be addressed in a report by the IAEA due to be released later this month, and one that Iran has promised to answer after years of foot-dragging.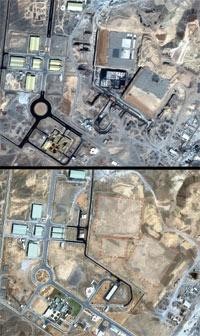 The IAEA has unravelled a long list of Iran's flagrant violations of IAEA nuclear-safeguard obligations. Iran failed to declare imports of 1,800 kilograms of uranium products from China in 1991. It neglected to tell the IAEA about uranium-enrichment activities using both gas-centrifuge and laser-enrichment techniques. And it failed to report research such as separating plutonium from irradiated uranium dioxide (UO2).
From 1985 until 2002, Iran ran a covert nuclear programme based mainly on enrichment technologies it obtained from the black-market weapons network operated by notorious Pakistani scientist Abdul Qadeer Khan. Getting a clearer picture of what went on in the programme will help to clarify the nation's current nuclear motives, although the safeguard violations alone throw serious doubts on the alleged peaceful intentions of its nuclear efforts.
Last December, the US intelligence agencies issued a consensus estimate on Iran that concluded that Iran had stopped its weapons programme in late 2003. The estimate has been widely interpreted as a U-turn by the United States, but a key point in the text went almost unnoticed — that Iran had a weapons programme at all. This assertion has not been contested by either Iran, which has long denied it had a weapons programme, or by the IAEA, which never explicitly stated as such — indeed, both welcomed the new US position.
Moreover, the estimate defined the "nuclear-weapons programme" as meaning covert nuclear enrichment, or efforts to build a nuclear warhead. The latter is ostensibly an easier step in building a nuclear weapon, experts say. The main obstacle to producing nuclear weapons is obtaining HEU or plutonium.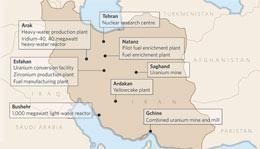 The US estimate did not cover Iran's supposedly civilian fuel-cycle facilities. Iran has ignored demands from the United Nations Security Council that it suspend enrichment and has relentlessly expanded its capacity at a plant in Natanz. It also continues to operate a heavy-water production plant and is completing a heavy-water reactor at Arak that can produce weapons-grade plutonium (see map).
Iran's current progress is cause for concern. Physicist Richard Garwin, who is a senior US government adviser on nuclear weapons and other security issues, last month calculated the low-enriched uranium (LEU) output of Natanz. He concluded that even if the plant operated at its planned maximum capacity of 54,000 centrifuges, this would be insufficient to fuel a nuclear power plant. But he noted that the 3,000 centrifuges currently installed at Natanz would be more than adequate for generating enough HEU for nuclear weapons. Using just the existing centrifuges operating at levels stated by Iran, Garwin calculates that if the plant switched them to HEU and fed them with the LEU now being legally produced, it would be possible to make enough material for 61.6 kilograms of HEU a year — the equivalent of three bombs. The concern is that once Iran reaches these levels it might 'break out' and go for the bomb (see 'Break-out scenarios'). According to Andreas Persbo, a researcher at VERTIC, a nuclear verification organization in London, "this strategy was pursued successfully by Pakistan in the early- to mid-1990s, during a time when it had promised the United States that it would stop producing HEU".

If Iran were to break out, when would it happen? December's US intelligence estimate stated "moderate confidence" that the earliest possible date would be late 2009, but that this was "very unlikely" and it was more likely to be between 2010 and 2015. It could even be later than that because of technical problems such as impurities in the uranium feed and difficulties in operating banks of centrifuges. Nature has seen preliminary results from the European Commission Joint Research Centre's Theoretical Centrifuge and Cascade Simulator, a sophisticated model of the output of the current Natanz 3,000 centrifuge cascade under various configurations. One of the scenarios generated posits that if the cascade operated at full capacity, Iran could break out as early as July this year, with enough HEU for a bomb by the end of the year. Operating at only one-quarter of capacity, it would reach that point by 2010.
Related links
Related links
Related links in Nature Research
Related external links
About this article
Cite this article
Butler, D. Atomic agency to give verdict on Iran. Nature 451, 750–751 (2008). https://doi.org/10.1038/451750a