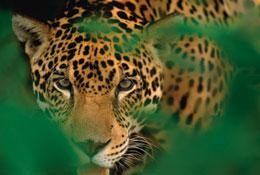 The US government will not attempt to save jaguars from extinction within the formal system of the Endangered Species Act.
The jaguar (Panthera onca, pictured) once ranged across the southern United States, but later essentially vanished, with the exception of a few males that have been seen slinking through New Mexico and Arizona during the past few decades. These outliers, according to a decision released on 17 January by the US Fish and Wildlife Service, do not justify a formal ?recovery plan?. The agency says that it will instead work on behalf of the endangered cat with other countries south of the border that comprise the rest of the animal's range.
?What is really important is to focus on the jaguars where they are,? says Elizabeth Slown, spokeswoman for the agency's southwest office in Albuquerque, New Mexico. ?I don't want people to think we are abandoning the jaguar.? Environmental groups say the government is doing just that. Kieran Suckling, policy director of the Arizona-based Center for Biological Diversity in Tucson, called the move ?a death sentence?.
About this article
Cite this article
Government abandons bid to save US jaguars. Nature 451, 386 (2008). https://doi.org/10.1038/451386f
Published:

Issue Date:

DOI: https://doi.org/10.1038/451386f