A theatre show from Forkbeard Fantasy which will be touring Britain from 6 December, and throughout much of next year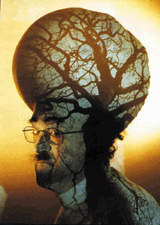 Making sense of The Brain, an experimental performance from Forkbeard Fantasy, is like trying to make sense of the brain itself. Ronald C. James's well-known photograph of a Dalmatian dog against a dappled background reminds us just how easily the brain finds order in a random world. In the world of Forkbeard Fantasy, on the other hand, anarchy is created effortlessly out of a high degree of order. The technical skill required to mount this mixed-media performance is immense. Video machines, film projectors, neon lights, music an 'intelligent' lighting system, automated smoke machines (to create a sensation of smell) all work seamlessly to give the illusion of chaos.
The Brain was funded in part by an award from the Wellcome Trust's Science on Stage Screen competition. The nine winners of this, the first year of the competition, each received up to £36,000 (US$56,500) to develop a production illuminating some aspect of medical science. The Brain was written and directed by Paul B. Davies, who has had considerable success on the Edinburgh Fringe — the offbeat offshoot of Britain's major arts festival — as well as on radio.
"Logical thought has no vantage point from which to observe its own workings," according to Davies in his programme notes, "but the imagination can propel the mind outside itself.
… The Brain is one such acrobatic enterprise although we can't pretend that it contains much real science, … modern scientific knowledge about the brain is the springboard from which we have launched it."
The one cerebral moment in all the confusion is when Emil Toescu of Birmingham University (billed as neuroscience adviser to Forkbeard Fantasy) appears on screen as a talking head to explain the neurophysiological basis of the sense of smell. He ends with a good joke, one of many good jokes during this 90-minute production. Look out for the one about that Dalmatian dog.
But for all the chaos, there are themes. Smell is important in the narrative, as are bees and phantom limbs. And behind all the fantasy there are important points about common oversimplifications made in the name of making science entertaining. Forkbeard use ridicule as a powerful weapon: how do you cure someone with a phantom limb? Answer: cut his head off.
Much intelligence and wit have gone into the production. Most of the ideas are well integrated but a few seem shoehorned into place, which makes for a disjointed narrative. But then narrative is the last thing on Forkbeard's mind.
Forkbeard acknowledge works by Richard Gregory, Rita Carter, Susan Greenfield, V.S. Ramachandran, Sandra Blakeslee, Marcel Proust, the children's comic and The Beezer.
Additional information
The Brain will have its final venue at the Natural History Museum, London, between 16 and 30 September 2000. For performance details write to Forkbeard, PO Box 1241, Bristol BS99 2TG, UK. It is suitable for sophisticates seeking to nourish their inner child.
About this article
Cite this article
Hurren, B., Meech, R. Science in culture. Nature 402, 582 (1999) doi:10.1038/45083
Comments
By submitting a comment you agree to abide by our Terms and Community Guidelines. If you find something abusive or that does not comply with our terms or guidelines please flag it as inappropriate.