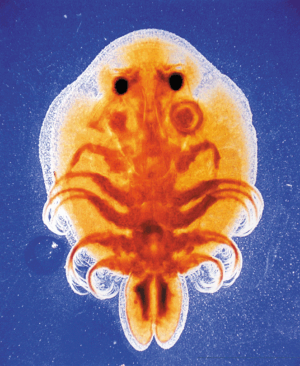 Deep Water (Ellipsis, £16 UK/£19 international) by Julian Caldecott and Melanie Salmon claims to be a celebration of the waterworld. The parasitic isopod shown above is just one of many photographs in a book that is published in English with French and Spanish translations on each page.
The book focuses on the need to protect the sea's fragile and inter-dependent ecosystems. It is produced by the charity Living Earth, which works through hands-on education and grass-roots action to help people to resolve local environmental issues and issues concerned with human development. All royalties from the sale of the book will be used by Living Earth to fund marine-education programmes.
About this article
Cite this article
A multilingual view of the sea. Nature 402, 581 (1999) doi:10.1038/45079
Comments
By submitting a comment you agree to abide by our Terms and Community Guidelines. If you find something abusive or that does not comply with our terms or guidelines please flag it as inappropriate.