The uneasy link between industry and education.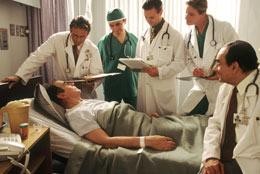 Can the pharmaceutical industry be trusted to fund doctors' compulsory education without introducing bias? The issue is dividing Congress, academics and drugs companies. Now, preliminary data have emerged suggesting that industry-sponsored courses skew training material in favour of commercial interests.
Pharmaceutical firms spend over US$1 billion a year to fund more than half of the continuing medical education (CME) courses that qualified physicians are required to take in the United States. Although drug firms say that they are scrupulous about separating their CME involvement from promotional activities, some may be influencing doctors, intentionally or not, and may even be putting patients' health at risk (see 'Smokescreens'). Drug companies deny this, insisting that the independent educational firms they pay to produce CME activities always operate outside industry influence. Government standards specify that commercial promotion must be kept separate from education.
Now, two small studies have attempted the first objective measurements of bias in doctors' education. Neither is large enough to settle the issue (and neither has yet been published), but their data suggest that industry sponsorship is distorting medical education.
Psychiatrist Jatinder Takhar, head of the CME office at the University of Western Ontario in London, Canada, first became interested in industry bias after attending a CME presentation on antipsychotic drugs that she had audited and approved previously. She was surprised to find that it did not match her recollection. "The data were slanted and the presentation was more promotional and less educational," she alleges.
Takhar and her colleagues went on to develop a standardized checklist of potential problems to be used for measuring bias in CME, which they published in June (J. Takhar et al. J. Cont. Educ. Health Prof. 27, 118-123; 2007). The team then applied its checklist to 17 company-sponsored CME events. Nine of these were found to be biased and should not have been approved, Takhar says. Some focused only on the sponsors' product and ignored rival treatments. In others, information on side effects associated with the sponsors' drugs was reduced to small print.
Another study, by Daniel Carlat, a psychiatrist at Tufts University School of Medicine in Somerville, Massachusetts, looked at printed CME material — typically, medical articles followed by a written test. Carlat asked his colleagues to remove information about the sponsor from exercises sent to his office during 2005 and 2006. He then calculated the ratio of positive to negative statements made about every drug mentioned in the exercises. In 14 of the 15 exercises he looked at, the drug that received the highest ratio turned out to have been made by the firm sponsoring that exercise. He is preparing his paper for submission to the American Journal of Psychiatry.
Carlat publishes a CME newsletter that operates independently of industry funding, presenting a conflict of interest to his study. Researchers shown the findings of the two studies by Nature add that the samples Carlat looked at might not be representative of all written CME exercises. They also note that, unlike Takhar, Carlat has not validated his method for estimating bias. Drug companies also point out that firms tend to sponsor material about disorders for which they sell the best treatment, so it is right that those exercises focus on the sponsors' drugs. Yet interviews with physicians involved in the exercises that Carlat evaluated reveal that, at least in some cases, the focus is not simply the result of sponsors' drugs outperforming those of their rivals.
CME providers know that if they don't provide what the company wants then they're never going to be hired again.
One exercise Carlat looked at was based on talks on bipolar disorder given at the 2005 US Psychiatric and Mental Health Congress. Anton Porsteinsson of the University of Rochester Medical Center in New York gave one of the presentations. Porsteinsson alleges that he mentioned problems with a sponsor's drug — Depakote (divalproex), manufactured by Abbott Laboratories in Illinois — in his talk, but that these were missing from the exercise. Yet he claims that positive results about the drug that were not mentioned during the talk were included. In his opinion, "the big issue is that the article is selective". Abbott denies claims that the presentation was distorted. A spokeswoman says that the firm had reviewed the material and found it to be in line with current thinking on bipolar disorder.
When asked about Carlat and Takhar's findings, Jennifer Page, communications director at the Pharmaceutical Research and Manufacturers of America in Washington DC, said only that drug companies do adhere to her organization's CME guidelines. Those standards require a firewall between pharmaceutical firms and medical-education companies. Drug companies can recommend speakers for events, for example, but CME providers select the physicians best suited for the job and are not obliged to follow a sponsor's suggestions.
But the firewall is not working, some argue. As other forms of promotion are scaled back, marketing is increasingly disguised as education, says Jerome Kassirer, a former editor of the New England Journal of Medicine, now at Tufts University in Medford, Massachusetts. "It's a reallocation of marketing money," he says.
One physician who was employed by a drug company to check the accuracy of promotional material, and who asked to remain anonymous, claims that CME material is still viewed by drug companies as part of marketing campaigns. He adds that the provider-sponsor firewall is easy to subvert, because CME providers do not need to be explicitly told to produce biased programmes. "They know that if they don't provide what the company wants then they're never going to be hired again," he claims.
The Accreditation Council for Continuing Medical Education (ACCME), based in Chicago, Illinois, which approves CME providers, acknowledges that more could be done to protect against bias. Murray Kopelow, the council's chief executive, says that next year the ACCME will launch a trial in which reviewers will check CME material and report back on problems they encounter. The council will also consider whether drug companies could be asked to pool CME funds for distribution by an independent body in a bid to reduce the influence that any one firm has over an educational exercise.

About this article
Cite this article
Giles, J. Drug firms accused of biasing doctors' training. Nature (2007). https://doi.org/10.1038/450464a
Published:

DOI: https://doi.org/10.1038/450464a