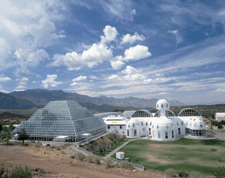 Columbia University in New York is poised to extend its agreement to manage the controversial Biosphere 2 centre in Arizona for a further ten years. After a rocky start, the centre is claimed to be on the threshold of becoming a recognized scientific facility.
Columbia's trustees were due to meet this week to consider university president George Rupp's recommendation to keep on running Biosphere 2 as a 'Columbia West' facility. The trustees are expected to approve the agreement, which was worked out a year earlier than had been anticipated.
Since taking over management of Biosphere 2 in 1996, Columbia has worked to turn the centre, created as an experimental, self-contained environment, into a mainstream educational and scientific facility (see Nature 378, 223; 1995 & 380, 275; 1996).
Increasing student enrolment confirms the success of the educational mission. But scientific success has been more elusive, because of the complexities of revamping and staffing the facility outside Tucson — which includes a saltwater lagoon, a tropical forest and carbon dioxide experiments with 50-foot-tall trees.
"It took us two years longer than we hoped, but we have turned the corner scientifically," says Michael Crow, an environmental scientist and Columbia's executive vice-provost, pointing to the budding number of publications emerging from the facility.
Last week, scientists and officials from the US Department of Energy visited Biosphere 2 as part of the centre's efforts to attract federal funding. Discussions are under way with the Los Alamos National Laboratory to conduct experiments in Biosphere 2's controlled environment. And a biodiversity research programme is being created outside the structure near Oracle, Arizona, to study the high-desert region.
"Things are moving quickly now" to meet the facility's scientific goals, says William Harris, a former assistant director at the National Science Foundation who has run Biosphere 2 since late 1996.
Joe Berry, a biologist at the Carnegie Institute at Stanford University who is one of three scientists overseeing projects at Biosphere 2, says the operation is "on the border" of being a fully functioning scientific facility "We have been doing the easy experiments," Berry says. "We have not done the hard ones yet."
Berry, who has been setting up experiments on mass balance in terrestrial eco- systems, says that implementing proper controls in the cavernous environmental lab has been extremely challenging. For example, raising Biosphere 2's internal monitoring equipment to the required standards involved major reassessments.
When Columbia took over, Biosphere 2 had about 700 sensors buried and placed around its different habitats and connected to computers. But the new team didn't know where they all were or what they did. Eventually a revised monitoring system using about 70 sensors was devised.
Throughout the four-year 'proof-of-concept' period since Columbia took over, Biosphere has continued to receive financial support from Edward Bass, the Texas billionaire who built the facility to explore his environmental visions. According to his associate, Martin Bowen, Bass is 'very, very satisfied with the management and accomplishments' of Columbia.
Since Columbia took over, university records show that Bass has given Biosphere 2 about $10 million per year (according to its tax returns, the centre has an annual operating budget of nearly $12 million). The records say he plans to contribute $30 million during the next five years.
About 100 undergraduate students come to Biosphere 2 from Columbia and more than 20 partner universities, paying Columbia about $12,000 per semester. Researchers, such as Columbia's Wallace Broecker, say the courses have been very popular.
Once the new agreement is finalized, Harris says new staff will be appointed, the student population expanded to 300, and a masters' programme developed.
About this article
Cite this article
Dalton, R. Columbia extends support for 'mainstream' Biosphere 2. Nature 402, 567 (1999) doi:10.1038/45029
Comments
By submitting a comment you agree to abide by our Terms and Community Guidelines. If you find something abusive or that does not comply with our terms or guidelines please flag it as inappropriate.