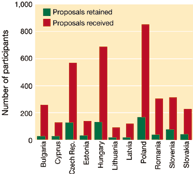 Cyprus, Estonia, Lithuania and Slovenia achieved the highest success rate of the 11 'candidate' countries seeking membership of the European Union in the first round of funding applications for the EU's fifth Framework research programme (FP5). Their achievement emerged from an analysis presented last week to a meeting of the council of research ministers in Brussels.
The European Commission was reporting on the progress of candidate countries within FP5. Research is the first sector in which candidate countries fully share the implementation of EU policy under similar conditions to member states. The commission described the results as "encouraging".
Around 12,000 proposals were made to FP5 programmes, with 29 per cent being approved for possible funding. Of the approved applicants, four per cent were from candidate countries, and, within the thematic programmes, candidate countries participated in a quarter of the proposals.
Poland, Hungary and the Czech Republic made most proposals (see graph), and proposers are mainly from the public sector. Romania performed surprisingly poorly, given its high level of participation in earlier programmes, and the reasons for this are to be investigated further.
At the same meeting, the council of ministers agreed on the timetable for the sixth Framework programme and on funding the dismantling of its nuclear installations. It also adopted a resolution on a European strategy for space, and is considering working with the European Space Agency on projects such as Galileo and Ariane. There was also agreement to create a reserve fund to allow swift action on new research priorities. In the past, the commission has struggled to find enough flexibility in research funds to provide for areas such as AIDS and BSE.
The topic of women in science also featured prominently at the meeting, where the commission's expert report on the issue in member states was presented (see Nature 402, 337; 1999). Some member states called for "practical action", said a spokesperson.
The German delegation suggested that research organizations that do particularly well in recruiting women should receive a financial bonus. Such a scheme has been successful in Germany, and this proposal could well be taken forward at a conference in April and become a theme of the next meeting of EU research ministers in June.
About this article
Cite this article
Loder, N. EU candidate states impress with Framework proposals. Nature 402, 566 (1999) doi:10.1038/45024
Comments
By submitting a comment you agree to abide by our Terms and Community Guidelines. If you find something abusive or that does not comply with our terms or guidelines please flag it as inappropriate.