Abstract
Curcumin has become a focus of interest with regard to its antitumor effects in prostate cancer; however, the effects of this agent on invasion and metastasis remain less well understood. Matrix metalloproteinases (MMPs) are important prerequisite for tumor invasion and metastasis. In this study, we evaluated the effects of curcumin on prostate cancer cells (DU-145) invasion in both in vitro and in vivo. We utilized zymography and ELISA in order to determine the MMP-2 and MMP-9 activity. Matrigel invasion assay was performed to assess cellular invasion. We developed a xenograft model to examine tumorigenicity. Curcumin treatment resulted not only in a significant reduction in the expression of MMP-2 and MMP-9, but also effected the inhibition of invasive ability in vitro. Curcumin was shown to induce a marked reduction of tumor volume, MMP-2, and MMP-9 activity in the tumor-bearing site. The metastatic nodules in vivo were significantly fewer in the curcumin-treated group than untreated group. Curcumin appears to constitute a potential agent for the prevention of cancer progression, or at least of the initial phase of metastasis, in prostate cancer.
This is a preview of subscription content
Access options
Subscribe to Journal
Get full journal access for 1 year
$99.00
only $24.75 per issue
All prices are NET prices.
VAT will be added later in the checkout.
Tax calculation will be finalised during checkout.
Buy article
Get time limited or full article access on ReadCube.
$32.00
All prices are NET prices.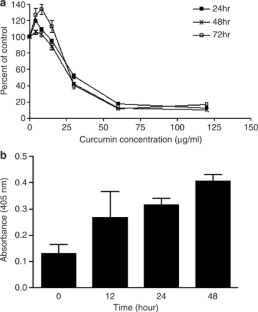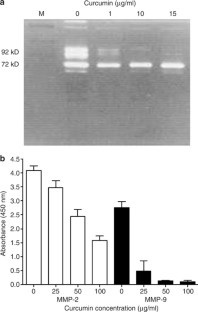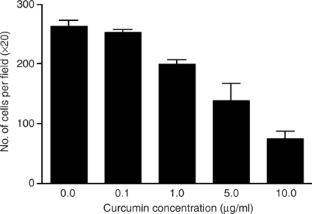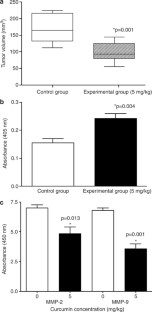 References
Jemal A, Tiwari RC, Murray T, Ghafoor A, Samuels A, Ward E et al. Cancer statistics, 2004. CA Cancer J Clin 2004; 54: 8–29.

Denis L, Morton MS, Griffiths K . Diet and its preventive role in prostatic disease. Eur Urol 1999; 35: 377–387.

Hebert JR, Hurley TG, Olendzki BC, Teas J, Ma Y, Hampl JS . Nutritional and socioeconomic factors in relation to prostate cancer mortality: a cross-national study. J Natl Cancer Inst 1998; 90: 1637–1647.

Yu AE, Hewitt RE, Connor EW, Stetler-Stevenson WG . Matrix metalloproteinases. Novel targets for directed cancer therapy. Drugs Aging 1997; 11: 229–244.

Kohn EC, Liotta LA . Molecular insights into cancer invasion: strategies for prevention and intervention. Cancer Res 1995; 55: 1856–1862.

John A, Tuszynski G . The role of matrix metalloproteinases in tumor angiogenesis and tumor metastasis. Pathol Oncol Res 2001; 7: 14–23.

Stearns M, Stearns ME . Evidence for increased activated metalloproteinase 2 (MMP-2a) expression associated with human prostate cancer progression. Oncol Res 1996; 8: 69–75.

Kanoh Y, Akahoshi T, Ohara T, Ohtani N, Mashiko T, Ohtani S et al. Expression of matrix metalloproteinase-2 and prostate-specific antigen in localized and metastatic prostate cancer. Anticancer Res 2002; 22: 1813–1817.

Trudel D, Fradet Y, Meyer F, Harel F, Tetu B . Significance of MMP-2 expression in prostate cancer: an immunohistochemical study. Cancer Res 2003; 63: 8511–8515.

Zhang L, Shi J, Feng J, Klocker H, Lee C, Zhang J . Type IV collagenase (matrix metalloproteinase-2 and -9) in prostate cancer. Prostate Cancer Prostatic Dis 2004; 7: 327–332.

Morgia G, Falsaperla M, Malaponte G, Madonia M, Indelicato M, Travali S et al. Matrix metalloproteinases as diagnostic (MMP-13) and prognostic (MMP-2, MMP-9) markers of prostate cancer. Urol Res 2005; 33: 44–50.

Dorai T, Gehani N, Katz A . Therapeutic potential of curcumin in human prostate cancer-I. Curcumin induces apoptosis in both androgen-dependent and androgen-independent prostate cancer cells. Prostate Cancer Prostatic Dis 2000; 3: 84–93.

Dorai T, Cao YC, Dorai B, Buttyan R, Katz AE . Therapeutic potential of curcumin in human prostate cancer. III. Curcumin inhibits proliferation, induces apoptosis, and inhibits angiogenesis of LNCaP prostate cancer cells in vivo. Prostate 2001; 47: 293–303.

Mukhopadhyay A, Bueso-Ramos C, Chatterjee D, Pantazis P, Aggarwal BB . Curcumin downregulates cell survival mechanisms in human prostate cancer cell lines. Oncogene 2001; 20: 7597–7609.

Dorai T, Dutcher JP, Dempster DW, Wiernik PH . Therapeutic potential of curcumin in prostate cancer-V: interference with the osteomimetic properties of hormone refractory C4-2B prostate cancer cells. Prostate 2004; 60: 1–17.

Shenouda NS, Zhou C, Browning JD, Ansell PJ, Sakla MS, Lubahn DB et al. Phytoestrogens in common herbs regulate prostate cancer cell growth in vitro. Nutr Cancer 2004; 49: 200–208.

Adams BK, Cai J, Armstrong J, Herold M, Lu YJ, Sun A et al. EF24, a novel synthetic curcumin analog, induces apoptosis in cancer cells via a redox-dependent mechanism. Anticancer Drugs 2005; 16: 263–275.

Nakamura K, Yasunaga Y, Segawa T, Ko D, Moul JW, Srivastava S et al. Curcumin down-regulates AR gene expression and activation in prostate cancer cell lines. Int J Oncol 2002; 21: 825–830.

Sehgal G, Hua J, Bernhard EJ, Sehgal I, Thompson TC, Muschel RJ . Requirement for matrix metalloproteinase-9 (gelatinase B) expression in metastasis by murine prostate carcinoma. Am J Pathol 1998; 152: 591–596.
Acknowledgements
This research was conducted with financial support provided by the OTTOGI Corporation, Anyang, Korea.
About this article
Cite this article
Hong, J., Ahn, K., Bae, E. et al. The effects of curcumin on the invasiveness of prostate cancer in vitro and in vivo. Prostate Cancer Prostatic Dis 9, 147–152 (2006). https://doi.org/10.1038/sj.pcan.4500856
Received:

Accepted:

Published:

Issue Date:

DOI: https://doi.org/10.1038/sj.pcan.4500856
Keywords
curcumin

animal model

matrix metalloproteinases
Further reading
Mohammad Fahad Ullah
Aamir Ahmad
Shazia Usmani

Biologia Futura (2022)

Qing-An Jia
Zhi-Ming Wang
Zhao-You Tang

BMC Complementary and Alternative Medicine (2013)

Ganna Chornokur
Nagi B. Kumar

Cancer Causes & Control (2013)