Abstract
Epidemiologic studies have demonstrated an inverse association between flavonoid intake and prostate cancer (PCa) risk. The East Asian diet is very high in flavonoids and, correspondingly, men in China and Japan have the lowest incidence of PCa worldwide. There are thousands of different naturally occurring and synthetic flavonoids. However, only a few have been studied in PCa. Our aim was to identify novel flavonoids with antiproliferative effect in PCa cell lines, as well as determine their effects on cell cycle. We have screened a representative subgroup of 26 flavonoids for antiproliferative effect on the human PCa (LNCaP and PC3), breast cancer (MCF-7), and normal prostate stromal cell lines (PrSC). Using a fluorescence-based cell proliferation assay (Cyquant), we have identified five flavonoids, including the novel compounds 2,2′-dihydroxychalcone and fisetin, with antiproliferative and cell cycle arresting properties in human PCa in vitro. Most of the flavonoids tested exerted antiproliferative effect at lower doses in the PCa cell lines compared to the non-PCa cells. Flow cytometry was used as a means to determine the effects on cell cycle. PC3 cells were arrested in G2/M phase by flavonoids. LNCaP cells demonstrated different cell cycle profiles. Further studies are warranted to determine the molecular mechanism of action of 2,2′-DHC and fisetin in PCa, and to establish their effectiveness in vivo.
Relevant articles
Open Access articles citing this article.
Sushan Yang

,

Linxin Wang

…

Beixian Zhou

Cellular & Molecular Biology Letters Open Access 30 September 2022

Sophie Rodius

,

Niek de Klein

…

Francisco Azuaje

Scientific Reports Open Access 19 February 2020

Xue Xiao

,

Juan Zou

…

Yuan Yao

BMC Complementary and Alternative Medicine Open Access 15 March 2018
Access options
Subscribe to this journal
Receive 4 print issues and online access
$259.00 per year
only $64.75 per issue
Rent or buy this article
Prices vary by article type
from$1.95
to$39.95
Prices may be subject to local taxes which are calculated during checkout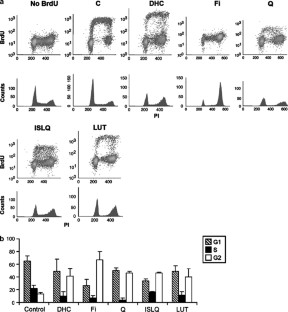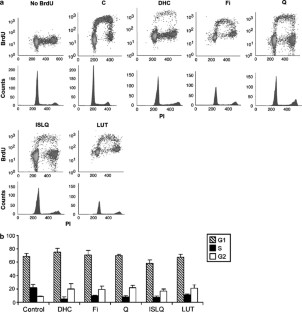 References
Ganry O . Phytoestrogens and prostate cancer risk. Prev Med 2005; 41: 1–6.

Morton MS, Chan PS, Cheng C, Blacklock N, Matos-Ferreira A, Abranches-Monteiro L et al. Lignans and isoflavonoids in plasma and prostatic fluid in men: samples from Portugal, Hong Kong, and the United Kingdom. Prostate 1997; 32: 122–128.

Adlercreutz H, Markkanen H, Watanabe S . Plasma concentrations of phyto-oestrogens in Japanese men. Lancet 1993; 342: 1209–1210.

Parkin DM, Bray F, Ferlay J, Pisani P . Global cancer statistics, 2002. CA Cancer J Clin 2005; 55: 74–108.

Lyn-Cook BD, Rogers T, Yan Y, Blann EB, Kadlubar FF, Hammons GJ . Chemopreventive effects of tea extracts and various components on human pancreatic and prostate tumor cells in vitro. Nutr Cancer 1999; 35: 80–86.

Maskarinec G, Singh S, Meng L, Franke AA . Dietary soy intake and urinary isoflavone excretion among women from a multiethnic population. Cancer Epidemiol Biomarkers Prev 1998; 7: 613–619.

Hirvonen T, Virtamo J, Korhonen P, Albanes D, Pietinen P . Flavonol and flavone intake and the risk of cancer in male smokers (Finland). Cancer Causes Control 2001; 12: 789–796.

Knekt P, Kumpulainen J, Jarvinen R, Rissanen H, Heliovaara M, Reunanen A et al. Flavonoid intake and risk of chronic diseases. Am J Clin Nutr 2002; 76: 560–568.

Neuhouser ML . Dietary flavonoids and cancer risk: evidence from human population studies. Nutr Cancer 2004; 50: 1–7.

Lee MM, Gomez SL, Chang JS, Wey M, Wang RT, Hsing AW . Soy and isoflavone consumption in relation to prostate cancer risk in China. Cancer Epidemiol Biomarkers Prev 2003; 12: 665–668.

Bohm BA . Structural variation and the flavonoid literature. In: Ravindranath B (ed.), Introduction to Flavonoids, vol. 2, Harwood Academic: New York, 1998, pp. 5–7.

Kuhnau J . The flavonoids. A class of semi-essential food components: their role in human nutrition. World Rev Nutr Diet 1976; 24: 117–191.

Noroozi M, Angerson WJ, Lean ME . Effects of flavonoids and vitamin C on oxidative DNA damage to human lymphocytes. Am J Clin Nutr 1998; 67: 1210–1218.

Valachovicova T, Slivova V, Sliva D . Cellular and physiological effects of soy flavonoids. Mini Rev Med Chem 2004; 4: 881–887.

Le Marchand L . Cancer preventive effects of flavonoids--a review. Biomed Pharmacother 2002; 56: 296–301.

Sarkar FH, Li Y . Soy isoflavones and cancer prevention. Cancer Invest 2003; 21: 744–757.

Castle EP, Thrasher JB . The role of soy phytoestrogens in prostate cancer. Urol Clin North Am 2002; 29: 71–81, viii–ix.

Park OJ, Surh YJ . Chemopreventive potential of epigallocatechin gallate and genistein: evidence from epidemiological and laboratory studies. Toxicol Lett 2004; 150: 43–56.

Adhami VM, Ahmad N, Mukhtar H . Molecular targets for green tea in prostate cancer prevention. J Nutr 2003; 133: S2417–S2424.

Agarwal R . Cell signaling and regulators of cell cycle as molecular targets for prostate cancer prevention by dietary agents. Biochem Pharmacol 2000; 60: 1051–1059.

Tyagi AK, Singh RP, Agarwal C, Chan DC, Agarwal R . Silibinin strongly synergizes human prostate carcinoma DU145 cells to doxorubicin-induced growth Inhibition, G2-M arrest, and apoptosis. Clin Cancer Res 2002; 8: 3512–3519.

Manthey JA, Guthrie N . Antiproliferative activities of citrus flavonoids against six human cancer cell lines. J Agric Food Chem 2002; 50: 5837–5843.

Kawaii S, Tomono Y, Katase E, Ogawa K, Yano M . Antiproliferative activity of flavonoids on several cancer cell lines. Biosci Biotechnol Biochem 1999; 63: 896–899.

Bruggisser R, von Daeniken K, Jundt G, Schaffner W, Tullberg-Reinert H . Interference of plant extracts, phytoestrogens and antioxidants with the MTT tetrazolium assay. Planta Med 2002; 68: 445–448.

Bohm BA . Biosynthesis and genetics. In: Ravindranath B (ed.), Introduction to Flavonoids, vol. 2, Harwood Academic: New York, 1998, pp. 299–306.

Chas E, Sando HHB . The Flavones of Rhus. American J Bot 1918; 5: 105–111.

Takahashi T, Takasuka N, Iigo M, Baba M, Nishino H, Tsuda H et al. Isoliquiritigenin, a flavonoid from licorice, reduces prostaglandin E2 and nitric oxide, causes apoptosis, and suppresses aberrant crypt foci development. Cancer Sci 2004; 95:448–453.

Sampson L, Rimm E, Hollman PC, de Vries JH, Katan MB . Flavonol and flavone intakes in US health professionals. J Am Diet Assoc 2002; 102: 1414–1420.

Hertog MG, Feskens EJ, Hollman PC, Katan MB, Kromhout D . Dietary flavonoids and cancer risk in the Zutphen Elderly Study. Nutr Cancer 1994; 22: 175–184.

Trzeciak A . Quercetin: significance in mutagenesis and carcinogenesis. Postepy Biochem 2001; 47: 299–306.

van der Woude H, Gliszczynska-Swiglo A, Struijs K, Smeets A, Alink GM, Rietjens IM . Biphasic modulation of cell proliferation by quercetin at concentrations physiologically relevant in humans. Cancer Lett 2003; 200: 41–47.

Choi JA, Kim JY, Lee JY, Kang CM, Kwon HJ, Yoo YD et al. Induction of cell cycle arrest and apoptosis in human breast cancer cells by quercetin. Int J Oncol 2001; 19: 837–844.

Galvano F, La Fauci L, Lazzarino G, Fogliano V, Ritieni A, Ciappellano S et al. Cyanidins: metabolism and biological properties. J Nutr Biochem 2004; 15: 2–11.

Xue H, Aziz RM, Sun N, Cassady JM, Kamendulis LM, Xu Y et al. Inhibition of cellular transformation by berry extracts. Carcinogenesis 2001; 22: 351–356.

Paschka AG, Butler R, Young CY . Induction of apoptosis in prostate cancer cell lines by the green tea component, (−)-epigallocatechin-3-gallate. Cancer Lett 1998; 130: 1–7.

Brusselmans K, De Schrijver E, Heyns W, Verhoeven G, Swinnen JV . Epigallocatechin-3-gallate is a potent natural inhibitor of fatty acid synthase in intact cells and selectively induces apoptosis in prostate cancer cells. Int J Cancer 2003; 106: 856–862.

Saleem M, Adhami VM, Siddiqui IA, Mukhtar H . Tea beverage in chemoprevention of prostate cancer: a mini-review. Nutr Cancer 2003; 47: 13–23.

Chung LY, Cheung TC, Kong SK, Fung KP, Choy YM, Chan ZY et al. Induction of apoptosis by green tea catechins in human prostate cancer DU145 cells. Life Sci 2001; 68: 1207–1214.

Kobayashi T, Nakata T, Kuzumaki T . Effect of flavonoids on cell cycle progression in prostate cancer cells. Cancer Lett 2002; 176: 17–23.

Knowles LM, Zigrossi DA, Tauber RA, Hightower C, Milner JA . Flavonoids suppress androgen-independent human prostate tumor proliferation. Nutr Cancer 2000; 38: 116–122.

Kanazawa M, Satomi Y, Mizutani Y, Ukimura O, Kawauchi A, Sakai T et al. Isoliquiritigenin inhibits the growth of prostate cancer. Eur Urol 2003; 43: 580–586.

Choi YH, Lee WH, Park KY, Zhang L . p53-independent induction of p21 (WAF1/CIP1), reduction of cyclin B1 and G2/M arrest by the isoflavone genistein in human prostate carcinoma cells. Jpn J Cancer Res 2000; 91: 164–173.

Tyagi A, Agarwal C, Agarwal R . Inhibition of retinoblastoma protein (Rb) phosphorylation at serine sites and an increase in Rb-E2F complex formation by silibinin in androgen-dependent human prostate carcinoma LNCaP cells: role in prostate cancer prevention. Mol Cancer Ther 2002; 1: 525–532.

Davis JN, Singh B, Bhuiyan M, Sarkar FH . Genistein-induced upregulation of p21WAF1, downregulation of cyclin B, and induction of apoptosis in prostate cancer cells. Nutr Cancer 1998; 32: 123–131.

Shukla S, Gupta S . Molecular mechanisms for apigenin-induced cell-cycle arrest and apoptosis of hormone refractory human prostate carcinoma DU145 cells. Mol Carcinog 2004; 39: 114–126.

Gupta S, Hussain T, Mukhtar H . Molecular pathway for (−)-epigallocatechin-3-gallate-induced cell cycle arrest and apoptosis of human prostate carcinoma cells. Arch Biochem Biophys 2003; 410: 177–185.

Ikezoe T, Chen SS, Heber D, Taguchi H, Koeffler HP . Baicalin is a major component of PC-SPES which inhibits the proliferation of human cancer cells via apoptosis and cell cycle arrest. Prostate 2001; 49: 285–292.

Chen YC, Shen SC, Lee WR, Lin HY, Ko CH, Shih CM et al. Wogonin and fisetin induction of apoptosis through activation of caspase 3 cascade and alternative expression of p21 protein in hepatocellular carcinoma cells SK-HEP-1. Arch Toxicol 2002; 76: 351–359.

Siddiqui IA, Adhami VM, Afaq F, Ahmad N, Mukhtar H . Modulation of phosphatidylinositol-3-kinase/protein kinase B- and mitogen-activated protein kinase-pathways by tea polyphenols in human prostate cancer cells. J Cell Biochem 2004; 91: 232–242.

Rao A, Coan A, Welsh JE, Barclay WW, Koumenis C, Cramer SD . Vitamin D receptor and p21/WAF1 are targets of genistein and 1, 25-dihydroxyvitamin D3 in human prostate cancer cells. Cancer Res 2004; 64: 2143–2147.

Mentor-Marcel R, Lamartiniere CA, Eltoum IE, Greenberg NM, Elgavish A . Genistein in the diet reduces the incidence of poorly differentiated prostatic adenocarcinoma in transgenic mice (TRAMP). Cancer Res 2001; 61: 6777–6782.

Gupta S, Hastak K, Ahmad N, Lewin JS, Mukhtar H . Inhibition of prostate carcinogenesis in TRAMP mice by oral infusion of green tea polyphenols. Proc Natl Acad Sci USA 2001; 98: 10350–10355.

Rice L, Samedi VG, Medrano TA, Sweeney CA, Baker HV, Stenstrom A et al. Mechanisms of the growth inhibitory effects of the isoflavonoid biochanin A on LNCaP cells and xenografts. Prostate 2002; 52: 201–212.

Singh RP, Sharma G, Dhanalakshmi S, Agarwal C, Agarwal R . Suppression of advanced human prostate tumor growth in athymic mice by silibinin feeding is associated with reduced cell proliferation, increased apoptosis, and inhibition of angiogenesis. Cancer Epidemiol Biomarkers Prev 2003; 12: 933–939.

Moridani MY, Galati G, O'Brien PJ . Comparative quantitative structure toxicity relationships for flavonoids evaluated in isolated rat hepatocytes and HeLa tumor cells. Chem Biol Interact 2002; 139: 251–264.

Sabzevari O, Galati G, Moridani MY, Siraki A, O'Brien PJ . Molecular cytotoxic mechanisms of anticancer hydroxychalcones. Chem Biol Interact 2004; 148: 57–67.
Acknowledgements
This work was supported by grant from the Canadian Prostate Cancer Research Initiative, and the Canadian Prostate Cancer Research Bionet.
About this article
Cite this article
Haddad, A., Venkateswaran, V., Viswanathan, L. et al. Novel antiproliferative flavonoids induce cell cycle arrest in human prostate cancer cell lines. Prostate Cancer Prostatic Dis 9, 68–76 (2006). https://doi.org/10.1038/sj.pcan.4500845
Received:

Revised:

Accepted:

Published:

Issue Date:

DOI: https://doi.org/10.1038/sj.pcan.4500845
Keywords