Abstract
Prostatitis is a common clinical entity with a prevalence rate of 5–9% and accounts for over 2 million hospital visits annually in the USA. It is traditionally classified into acute bacterial, chronic bacterial, abacterial prostatitis and prostatodynia. The recent consensus conference of the US National Institute of Diabetes and Digestive and Kidney Diseases in 2000 resulted in renewed interest in the prevalence, etiology, pathogenesis and treatment of the prostatitis syndromes. In this review, we present the contemporary knowledge and experience regarding the etiology, classification, evaluation and treatment of this condition including the role of transurethral microwave hyperthermia and transurethral needle ablation.
Your institute does not have access to this article
Relevant articles
Open Access articles citing this article.
Udensi K. Udensi

&

Paul B. Tchounwou

Journal of Experimental & Clinical Cancer Research Open Access 08 September 2016

Giorgio Bozzini

,

Marco Provenzano

…

Gianluigi Taverna

BMC Urology Open Access 08 June 2016
Access options
Subscribe to Journal
Get full journal access for 1 year
$99.00
only $24.75 per issue
All prices are NET prices.
VAT will be added later in the checkout.
Tax calculation will be finalised during checkout.
Buy article
Get time limited or full article access on ReadCube.
$32.00
All prices are NET prices.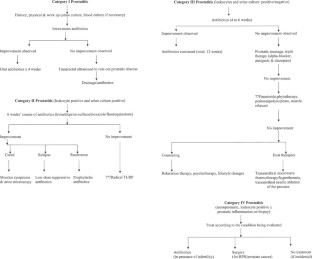 References
Litwin MS et al. The National Institute of Health Chronic Prostatitis Symptom Index: development and validation of a new outcome measure. Chronic Prostatitis Collaborative Research Network J Urol 1999 162: 369–375

Nickel JC, Nyberg LM, Hennenfent M . Research guidelines for chronic prostatitis: consensus report from the first National Institutes of Health International Prostatitis Collaborative Network Urology 1999 54: 229–233

McNaughton-Collins M et al. Quality of life is impaired in men with chronic prostatitis: results from the NIH Cohort Study [Abstract 98] J Urol 2000 163: (Suppl) 23

Weidner W et al. Chronic prostatitis: a thorough search for etiologically involved microorganisms in 1461 patients Infection 1991 19: (Suppl 3) 119–125

Nickel JC . Prostatitis: evolving management strategies Urol Clin North Am 1999 26: 737–751

National Institutes of Health Summary Statement. Presented at the National Institutes of Health/National Institute of Diabetes and Digestive and Kidney Disease Workshop on Chronic Prostatitis. National Institute of health, Bethesda December 1995

Nickel JC, Bruce AW, Reid G . Pathogenesis, diagnosis and treatment of the prostatitis syndromes In: Krane, RJ, Siroky MB (eds) Clinical Urology Lippincott: Philadelphia 1994 p 925

Elert A et al. Isolated candial prostatitis J Urol 2000 163: 244

Kaplan SA et al. Pseudodyssynergia (contraction of the external sphincter during voiding) misdiagnosed as chronic nonbacterial prostatitis and the role of biofeedback as a therapeutic option J Urol 1997 157: 2234

Special Report on Prostatitis: Initiatives and Future Research. Highlights of the Second International Prostatitis Collaborative Network Meeting 3–5 November 1999, Bethesda, MD Rev Urol 2000 2: 158–166

Blacklock NJ . The anatomy of the prostate: relationship with prostatic infection Infection 1991 19: (Suppl 1) 111

Nickel JC et al. Pathogenesis of chronic bacterial prostatitis in an animal model Br J Urol 1990 66: 47

Alexander RB, Brady F, Ponniah S . Autoimmune prostatitis: evidence of T-cell reactivity with normal prostatic proteins in men with a history of prostatitis J Urol 1997 157: S934

Persson BE, Ronquist G . Evidence for a mechanistic association between nonbacterial prostatitis and levels of urate and creatinine in expressed prostatic secretion J Urol 1996 155: 958

Meares EJ . Prostatitis Med Clin North Am 1991 75: 405

Nickel JC, Costerton JW . Bacterial localization in antibiotic-refractory chronic bacterial prostatitis Prostate 1993 23: 107

Nickel JC et al. bacterial biofilms: influence on the pathogenesis, diagnosis and treatment of urinary tract infections J Antimicrob Chemother 1994 33: 41

Cho IR et al. Prostate blood flow characteristics in the chronic prostatitis/chronic pelvic pain syndrome J Urol 2000 163: 1130–1133

True LD et al. Prostate histopathology and the chronic prostatitis/chronic pelvic pain syndrome: a prospective biopsy study J Urol 1999 162: 2014

Nadler RB et al. IL-1 beta and TNF-alpha in prostatic secretions are indicators in the evaluation of men with chronic prostatitis J Urol 2000 164: 214–218

Berghuis JP et al. Psychological and physical factors involved in chronic idiopathic prostatitis J Urol 1998 159: 1422

Krieger JN, Nyberg L Jr, Nickel JC . NIH Consensus Definition and Classification of Prostatitis JAMA 1999 282: 236–237

Meares EM, Stamey TA . Bacteriologic localization patterns in bacterial prostatitis and urethritis Invest Urol 1968 5: 492

Moon TD . Questionnaire survey of urologists and primary care physicians' diagnostic and treatment practices for prostatitis Urology 1997 50: 543

Nickel JC et al. Diagnosis and treatment of prostatitis in Canada Urology 1998 52: 797

Nickel JC . The pre and post massage test (PPMT): A simple screen for prostatitis Tech Urol 1997 3: 38

Shoskes DA et al. Bacterial cultures of urine, prostatic fluid and semen of men with chronic pelvic pain syndrome: role of culture for 2 vs 5 days [Abstract 102] J Urol 2000 163: (Suppl) 24

Krieger JN, Jacobs J, Ross SO . Detecting urethral and prostatic inflammation in patients with chronic prostatitis Urology 2000 55: 186–192

Hochreiter WW, Duncan JL, Schaeffer AJ . Evaluation of the bacterial flora of the prostate using 16S rRNA gene based polymerase chain reaction J Urol 2000 163: 127–130

Shoskes DA, Shahed A . Presence of bacterial signal in expressed prostatic secretions predicts response to antibiotic therapy in men with chronic pelvic pain syndrome [Abstract 99] J Urol 2000 163: (Suppl) 23

Dimitrakov J et al. Recent developments in diagnosis and therapy of the prostatitis syndromes Curr Opinion Urol 2001 11: 87–91

Bjerklund Johansen TE et al. The role of antibiotics in the treatment of chronic prostatitis: a consensus statement Eur Urol 1998 34: 457–466

Weidner W et al. Outcome of antibiotic therapy with ciprofloxacin in chronic bacterial prostatitis Drugs 1999 58: (Suppl 2) 103–106

McGuire EJ, Lytton B . Treatment with trimethoprim-sulfamethazole Urology 1976 7: 499

Schaeffer AJ, Darras FS . The efficacy of norfloxacin in the treatment of chronic bacterial prostatitis refractory to trimethoprim-sulfamethoxazole and/or carbenicillin J Urol 1990 144: 690

Barbalias GA, Nikiforidis G, Liatsikos EN . Alpha-blockers for the treatment of chronic prostatitis in combination with antibiotics J Urol 1998 159: 883–887

Barbalias GA . Clinical and therapeutical guidelines for chronic prostatitis. Letter to the Editor Eur Urol 2000 37: 116–117

Shoskes DA, Zeitlin SI, Shahed A, Rajfer J . Quercetin in men with category III chronic prostatitis: a preliminary prospective, double-blind, placebo-controlled trial Urology 1999 54: 960–963

Leskinen M, Lukkarinen O, Marttila T . Effects of finasteride in patients with inflammatory chronic pelvic pain syndrome: a double-blind, placebo-controlled, pilot study Urology 1999 53: 502–505

Shahed A, Shoskes DA . Oxidative stress in prostatic fluid of men with chronic pelvic pain syndrome: correlation with bacterial growth and treatment response [Abstract 103] J Urol 2000 163: (Suppl) 24

Kuz'min MD, Ivanov IuB, Bukharin OV . Treatment of chronic prostatitis complicated by asthenozoospermia using transurethral radio-wave hyperthermia Urologiia 1999 4: 36–39

Nickel JC, Sorensen R . Transurethral microwave thermotherapy for nonbacterial prostatitis: a randomized double-blind sham controlled study using new prostatitis specific assessment questionnaires J Urol 1996 155: 1950–1954 discussion 1954–1955

Mene MP et al. Transurethral microwave hyperthermia in the treatment of chronic non-bacterial prostatitis J Urol 1998 159: 1422–1423

Giamakopoulos X et al. Chronic nonbacterial prostatitis and TUNA: 5 years clinical experience Presented at the XVth Congress of the European Association of Urology 12–15 April 2000 Brussels

Chang PH, Tsai EM, Chiang CP . Pilot study of transurethral needle ablation (TUNA) in treatment of nonbacterial prostatitis J Endourol 1997 11: 367–370

Nickel JC et al. Prostatitis unplugged? Prostatic massage revisited Tech Urol 1999 5: 1–7

Nickel JC et al. Repetitive prostatic massage therapy for chronic refractory prostatitis: the Philippine experience Tech Urol 1999 5: 146–151

Dimitrakov J et al. Recent developments in diagnosis and therapy of the prostatitis syndromes Curr Opinion Urol 2001 11: 87–91
About this article
Cite this article
Gurunadha Rao Tunuguntla, H., Evans, C. Management of prostatitis. Prostate Cancer Prostatic Dis 5, 172–179 (2002). https://doi.org/10.1038/sj.pcan.4500604
Received:

Revised:

Accepted:

Published:

Issue Date:

DOI: https://doi.org/10.1038/sj.pcan.4500604
Keywords
prostatitis

expressed prostatic secretions

pelvic pain syndrome

midstream urine

microwave thermotherapy

prostatic massage

transurethral needle ablation