For most atomic nuclei, the maximum number of neutrons that can be bound is unknown. The discovery of two neutron-rich nuclei — and the confirmed absence of others — might help solve this conundrum.
Access options
Subscribe to Journal
Get full journal access for 1 year
$199.00
only $3.90 per issue
All prices are NET prices.
VAT will be added later in the checkout.
Tax calculation will be finalised during checkout.
Buy article
Get time limited or full article access on ReadCube.
$32.00
All prices are NET prices.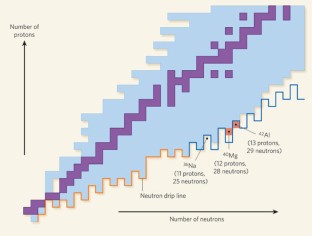 References
Baumann, T. et al. Nature 449, 1022–1024 (2007).

Audi, G., Wapstra, A. H. & Thibault, C. Nucl. Phys. A 729, 337–676 (2003).

Lunney, D., Pearson, J. M. & Thibault, C. Rev. Mod. Phys. 75, 1021–1082 (2003).

Notani, M. et al. Phys. Lett. B 542, 49–54 (2002).

Lukyanov, S. M. et al. J. Phys. G 28, L41–L45 (2002).

Möller, P., Nix, J. R., Myers, W. D. & Swiatecki, W. J. Atomic Data Nucl. Data Tables 59, 185–381 (1995).

Samyn, M., Goriely, S., Bender, M. & Pearson, J. M. Phys. Rev. C 70, 044309 (2004).
About this article
Cite this article
Heenen, PH. Neutrons cross the line. Nature 449, 992–993 (2007). https://doi.org/10.1038/449992a
Published:

Issue Date:

DOI: https://doi.org/10.1038/449992a