Direct injection of proteins into host cells is one of the tricks bacteria use during infection. It seems that, to achieve this, the stomach pathogen Helicobacter pylori first grabs the cell by its surface receptors.
Your institute does not have access to this article
Access options
Subscribe to Journal
Get full journal access for 1 year
$199.00
only $3.90 per issue
All prices are NET prices.
VAT will be added later in the checkout.
Tax calculation will be finalised during checkout.
Buy article
Get time limited or full article access on ReadCube.
$32.00
All prices are NET prices.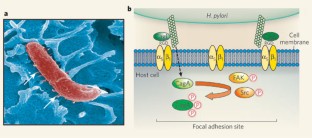 References
Kusters, J. G., van Vliet, A. H. & Kuipers, E. J. Clin. Microbiol. Rev. 19, 449–490 (2006).

Kwok, T. et al. Nature 449, 862–866 (2007).

Censini, S., Stein, M. & Covacci, A. Curr. Opin. Microbiol. 4, 41–46 (2001).

Hatakeyama, M. Nature Rev. Cancer 4, 688–694 (2004).

Stein, M., Rappuoli, R. & Covacci, A. Proc. Natl Acad. Sci. USA 97, 1263–1268 (2000).

Odenbreit, S. et al. Science 287, 1497–1500 (2000).

Selbach, M., Moese, S., Hauck, C. R., Meyer, T. F. & Backert, S. J. Biol. Chem. 277, 6775–6778 (2002).

Amieva, M. R. et al. Science 300, 1430–1434 (2003).

Xiong, J. P. et al. Science 296, 151–155 (2002).

Agerer, F. et al. J. Cell Sci. 118, 2189–2200 (2005).

Watarai, M., Funato, S. & Sasakawa, C. J. Exp. Med. 183, 991–999 (1996).
About this article
Cite this article
Hauck, C. Preparing the shot. Nature 449, 798–799 (2007). https://doi.org/10.1038/449798a
Published:

Issue Date:

DOI: https://doi.org/10.1038/449798a