A South African cave overlooking the Indian Ocean was apparently a desirable residence for early humans. The site has provided rich evidence for the early use of colour and marine resources.
Access options
Subscribe to Journal
Get full journal access for 1 year
$199.00
only $3.90 per issue
All prices are NET prices.
VAT will be added later in the checkout.
Tax calculation will be finalised during checkout.
Buy article
Get time limited or full article access on ReadCube.
$32.00
All prices are NET prices.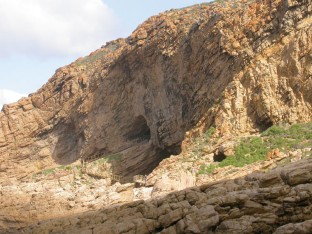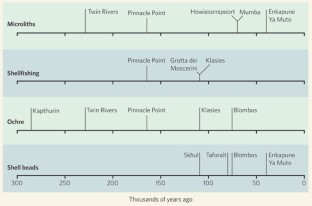 References
Marean, C. W. et al. Nature 449, 905–908 (2007).

Stringer, C. in The Prehistory of Africa (ed. Soodyall, H.) 10–20 (Ball, Johannesburg, 2006).

Klein, R. G. & Edgar, B. The Dawn of Human Culture (Nevraumont, New York, 2002).

McBrearty, S. & Brooks, A. J. Hum. Evol. 39, 453–563 (2000).

Henshilwood, C. S. & Marean, C. W. Curr. Anthropol. 44, 641–642 (2003).

Henshilwood, C. S. in Rethinking the Human Revolution (eds Mellars, P. & Boyle, K.) (MacDonald Institute, Cambridge, in the press).

Bouzouggar, A. et al. Proc. Natl Acad. Sci. USA 104, 9964–9969 (2007).

Vanhaeren, M. et al. Science 312, 1785–1788 (2006).

Watts, I. S. Afr. Archaeol. Bull. 57, 1–14 (2002).

Wadley, L., Williamson, B. & Lombard, M. Antiquity 78, 661–675 (2004).

Kay, P., Berlin, B., Maffi, M. & Merrifield, W. in Color Categories in Thought and Language (eds Hardin, C. & Maffi, I.) 21–58 (Cambridge Univ. Press, 1997).

Ambrose, S. H. in Thinking Small: Global Perspectives on Microlithization (eds Elston, R. G. & Kuhn, S. H.) 9–29 (Am. Anthropol. Assoc., Washington DC, 2002).

Stiner, M. C. Honor Among Thieves (Princeton Univ. Press, 1994).
About this article
Cite this article
McBrearty, S., Stringer, C. The coast in colour. Nature 449, 793–794 (2007). https://doi.org/10.1038/449793a
Published:

Issue Date:

DOI: https://doi.org/10.1038/449793a