Systema metropolis
Natural History Museum, London, UK: (15 June–2 September)
American artist Mark Dion recently spent 18 months collaborating with scientists at London's Natural History Museum, collecting and identifying samples from four 'hidden' environments across the metropolis — cemeteries, a main road, a park and along the River Thames, including a power-station outlet.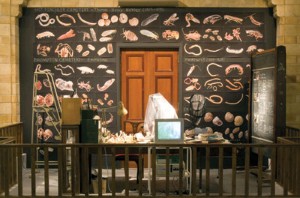 "I'm not doing science," he says. "I shadow aspects of the process to get to an essence of the desire to do those things." The outcome of this investigation into the cross-fertilization between nature and urbanization in London is unveiled in an exhibition installed in five temporary pavilions in the museum's Jerwood Gallery. The scene is set with Dion's homage to Carl Linnaeus, whose binomial classification system democratized botany and zoology, enabling amateurs and professionals alike to collect and classify specimens. It includes a bust of the Swede and other historical material from the museum's own collection.
Photographs of the small invertebrates found at three cemeteries — including East Finchley where evolutionist T. H. Huxley is buried — are displayed in a simulated scientist's workplace (see picture). Another pavilion displays two square-metre samples of soil excavated from the 2012 Olympic Park. Fauna and flora colonizing the soil will be kept alive throughout the exhibition, housed in a contemporary herbarium.
Insects were collected by a device mounted on a car while driving along one of London's busiest roads on 23 May, Linnaeus's birthday. The species of the squashed specimens were determined by DNA analysis and photographs of intact specimens of the species displayed.
Dion appropriates the methods, tactics and traits of science, to explore serious questions in a playful and subjective manner that scientists cannot adopt. In his own words, he is able to act as a "lightning rod" for ideas about science. "I'm not conducting an experiment in strict scientific terms, but for some people it's enough to look the part," he comments in an interview published in the catalogue to a concurrent, touring exhibition, The Natural History of the Museum. This Dion retrospective charts his development as an artist, and is showing at the Dunkers Kulturhus in Helsingborg, Sweden, until 26 August (http://www.dunkerskulturhus.se) and at Seedamm Kulturzentrum in Pfäffikon, Switzerland, from 15 September to 11 November (http://www.seedamm-kultur.ch).
About this article
Cite this article
Martin, C. Art shadowing science. Nature 448, 26 (2007). https://doi.org/10.1038/448026a
Published:

Issue Date:

DOI: https://doi.org/10.1038/448026a