Deal may be in sight for hospital workers on death row.
Diplomats are cautiously optimistic that a deal may be within reach, perhaps by the end of June, to save the lives of five Bulgarian nurses and a Palestinian doctor condemned to death in Libya for allegedly deliberately injecting over 400 children with HIV in 1998.
Private negotiations have recently intensified between Libya and the European Union — which Bulgaria joined on 1 January — to try to find a way out of the politically charged case. Any deal would have to balance provision of humanitarian aid for long-term treatment of the infected children, and support for their families, against compromising the medical workers' defence with implied guilt. Islamic law allows for blood money to substitute for punishment.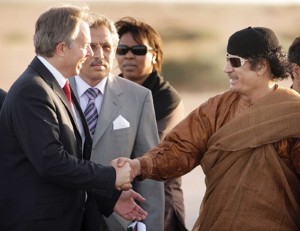 The medics were condemned to death on 19 December 2006. Arrested in 1999, they were first found guilty and sentenced to death in May 2004, but the Libyan Supreme Court overturned the verdict and ordered a retrial. When that retrial also found them guilty, it sparked a worldwide political and public outcry. Scientists argue that medical evidence exonerates the six, and that contaminated medical supplies and equipment caused the outbreak. This evidence was denied a hearing in court. The six have lodged an ultimate appeal to the Supreme Court, but no date has been set for this.
The case has seen many false starts, but diplomats are now cautiously optimistic that progress is being made. On 27 May, the medics were acquitted of a separate but related case of slander, for accusing police of torturing them to extract confessions.
Other political moves have been afoot. Tony Blair, Britain's outgoing prime minister, met with Libyan leader Muammar Gaddafi on a farewell trip to Africa last week. Blair's office said their discussion would include the medics' case. In public, Blair announced strengthened cooperation between the two countries — perhaps significant, as the HIV case has become an obstacle to Libya's ongoing integration into the international community.
The talks are going in the right direction. Let's say I'm less pessimistic than a few months ago.
After meeting with Blair, a representative for the infected childrens' families indicated his openness to reaching a solution. At the same time, Libya's foreign ministry issued a statement that the ongoing talks were intended "to find a solution favourable for all sides".
Nicolas Sarkozy, the new French president, made resolution of the case a foreign-policy priority in his victory speech last month. And George W. Bush, in an interview on Bulgarian Television last week, reiterated the United States's desire for the case to "be solved quickly and in a way that is satisfactory to the Bulgarian people."
Diplomats hope that the activity might result in a resolution before a summit of European Union heads of state in Vienna on 21 June, just before Germany's presidency of the European Union ends.
"We are greatly appreciative of the very strong European diplomatic activity," says Emmanuel Altit, a member of the medic's defence team. "The talks are going in the right direction. Let's say I'm less pessimistic than a few months ago."
Related links
Related links
Related links in Nature Research
Related external links
About this article
Cite this article
Butler, D. Diplomatic talks spur hope in Libya HIV case. Nature 447, 624 (2007). https://doi.org/10.1038/447624b
Published:

Issue Date:

DOI: https://doi.org/10.1038/447624b