President's call for global goal fails to impress.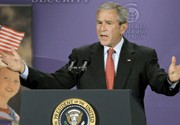 President George W. Bush's 31 May announcement of a "new framework" for international efforts to confront climate change sounded, at first, like a sharp turnaround by the White House. But as analysts dissected his statements, many concluded that he had said little new.
In a speech in Washington DC to the Global Leadership Campaign, a group that lobbies for greater spending on international affairs, Bush called for the top-emitting countries to meet by the end of 2008 to set a long-term global goal for greenhouse-gas emissions. The notion of Bush proposing a global target to tackle climate change caused a flurry of excitement.
But in a briefing afterwards, James Connaughton, the president's environmental adviser, said that Bush was referring only to "a long-term aspirational goal" rather than a binding commitment. "It is the implementing mechanisms that become binding," he said.
It remains to be seen whether this initiative means anything.
"It remains to be seen whether this initiative means anything," says Bert Metz, a climatologist at the Netherlands Environmental Assessment Agency in Bilthoven. Stabilizing atmospheric levels of greenhouse gases, he says, requires "ambitious and urgent international collaboration. Only starting the discussions on this next year sounds rather strange."
Arriving before the annual G8 meeting of the richest nations' leaders in Germany this week, many have interpreted Bush's proposal as a tactical manoeuvre to lighten the pressure on him to agree to do anything firm about climate change at that meeting. Alden Meyer, a climate specialist at the Union of Concerned Scientists in Cambridge, Massachusetts, adds that it "could serve as a huge diversion" at the planned United Nations (UN) negotiations about climate change in Bali in December.
Others argue that Bush's proposed framework may help rather than hinder progress. "I think that there is a good chance that whatever comes out of this process will merge into the UN process," says Jeff Holmstead, a former environment official with the Bush administration, now at the law firm Bracewell and Giuliani in Washington DC.
Stephen Schneider, a climatologist at Stanford University in California, thinks that a side deal, separate from but not replacing the UN process, could in theory be helpful. But he says that the last such side deal initiated by Bush — the Asia–Pacific partnership of July 2005, which heavily emphasized technology developments to address climate change — is widely regarded as a flop. "It lets greenhouse gases continue to rise at the same rate and under-funds research by a factor of 100. People who are cynical and view [the new proposal] as disingenuous have a long historical trail to base this on," he adds.
Japan and Australia, participants in the Asia-Pacific deal, have welcomed Bush's plan. Shinzo Abe, Japan's prime minister, has said he thinks the United States is "finally getting serious in dealing with global warming". Last week, Abe launched Japan's plan for a non-binding arrangement to halve global greenhouse-gas emissions by 2050.
China, another Asia-Pacific partner and the world's second largest emitter of carbon dioxide after the United States, also announced its plan to tackle climate change this week. It intends to focus on improving environmental management and agricultural and energy efficiencies and, like the United States, boost research and development for alternative energy, but without compromising economic development. China notes that its per-capita emissions are lower than the world average, and much lower than those of the United States. The United States, it says, should take the lead in reducing emissions.
Additional information
Additional reporting by Quirin Schiermeier and David Cyranoski
Related links
Related links
Related links in Nature Research
Related external links
About this article
Cite this article
Marris, E., Macilwain, C. Bush's climate plan 'nothing new'. Nature 447, 618–619 (2007). https://doi.org/10.1038/447618b
Published:

Issue Date:

DOI: https://doi.org/10.1038/447618b