There is a long way to go before artificial enzymes can reproduce the functions of the real things. The advent of systems that generate and respond to signals may bring that ideal a step closer.
Your institute does not have access to this article
Access options
Subscribe to Journal
Get full journal access for 1 year
$199.00
only $3.90 per issue
All prices are NET prices.
VAT will be added later in the checkout.
Tax calculation will be finalised during checkout.
Buy article
Get time limited or full article access on ReadCube.
$32.00
All prices are NET prices.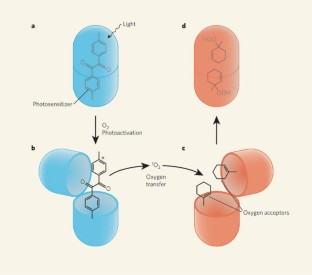 References
Laloi, C. et al. Proc. Natl Acad. Sci. USA 104, 672–677 (2007).

Klotz, L.-O., Briviba, K. & Sies, H. in Antioxidant and Redox Regulation of Genes (eds Sen, C. K., Sies, H. & Baeuerle, P. A.) 3–20 (Academic, San Diego, 2000).

Natarajan, A. et al. J. Am. Chem. Soc. 129, 4132–4133 (2007).

Cram, D. J. Angew. Chem. Int. Edn Engl. 27, 1009–1112 (1988).

Houk, K. N., Nakamura, K., Sheu, C. & Keating, A. E. Science 273, 627–629 (1997).

MacGillivray, L. R. & Atwood, J. L. Nature 389, 469–472 (1997).

Liu, X. & Warmuth, R. J. Am. Chem. Soc. 128, 14120–14127 (2006).

Wasserman, H. H. & Murray, R. W. (eds) Singlet Oxygen (Academic, New York, 1979).

Conn, M. M. & Rebek, J. Jr Chem. Rev. 97, 1647–1668 (1997).

Hornak, V., Okur, A., Rizzo, R. C. & Simmerling, C. Proc. Natl Acad. Sci. USA 103, 915–920 (2006).

Tozzini, V., Trylska, J., Chang, C.-E. & McCammon, J. A. J. Struct. Biol. 157, 606–615 (2007).

Carpenter, B. K. in Reactive Intermediate Chemistry (eds Moss, R. A., Platz, M. S. & Jones, M. Jr) 925–960 (Wiley, Hoboken, 2004).

Sivaguru, J. et al. Tetrahedron 62, 10647–10659 (2006).

Gao, Y. & Ogilby, P. R. Macromolecules 25, 4962–4966 (1992).

Rebek, J. Jr J. Org. Chem. 69, 2651–2660 (2004).
About this article
Cite this article
Greer, A. Molecular cross-talk. Nature 447, 273–274 (2007). https://doi.org/10.1038/447273a
Published:

Issue Date:

DOI: https://doi.org/10.1038/447273a
Further reading
Alvaro Castillo
Alexander Greer

Structural Chemistry (2009)