"I used to watch Doctor Who and Star Trek , but they went [politically correct] — making women commanders, that sort of thing. I stopped watching."
British television personality Patrick Moore, who has presented a show on astronomy since 1957, alienates a large proportion of his audience.
"I believe in evolution. But I also believe, when I hike the Grand Canyon and see it at sunset, that the hand of God is there also."
US presidential hopeful John McCain (Republican) tries not to alienate anyone at a recent debate. Three of his rivals for the nomination declared that they don't believe in evolution.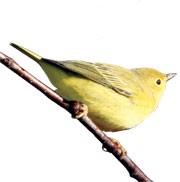 Wildlife workers in Florida say that the wildfires raging across the state are killing hundreds of yellow warblers (pictured). Clouds of smoke are causing the disorientated birds to drop out of the sky or career into buildings.
Researchers at the University of Minnesota claim that rooms with lofty ceilings encourage "freer, more abstract thinking", whereas more poky spaces activate more "confined concepts".
Plans for a 'body farm' to help forensic experts study decomposition have been shelved amid fears that the Texas State University facility would attract buzzards and endanger nearby planes.
Sources: ABC, BBC, Livescience.com, washingtonpost.com, Associated Press
About this article
Cite this article
Sidelines. Nature 447, 242 (2007). https://doi.org/10.1038/447242a
Published:

Issue Date:

DOI: https://doi.org/10.1038/447242a