Australian brewer Foster's is planning to install a 2,500-litre bacterial fuel cell at its Brisbane plant, to produce clean energy from sugary waste water...
...While German drinkers are facing the sobering prospect of a price hike for their favourite brew, as many of the country's barley farmers are switching to heavily subsidized biofuel crops.
"A scientist by day, he is a lead Chippendale dancer by night."
Promotional material for the US reality-TV show Pirate Master describes John Lakness, who will compete with 15 others for a $1- million prize. Lakness reportedly studied electrical engineering at Rensselaer Polytechnic Institute.
Homo floresiensis fans will be excited to learn that the tiny hominins have spawned a novel, Flores Girl — and it's free to download at http://www.floresgirl.com. Author Erik John Bertel promises that a sequel is already under way.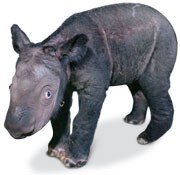 Rhino record
Emi, a Sumatran rhino at Cincinnati Zoo, has given birth to a record-breaking third calf (pictured). The proud mum is the first of this species to bear more than a single calf in captivity.
Sources: Associated Press, Czech Business Weekly, CBS
About this article
Cite this article
Sidelines. Nature 447, 125 (2007). https://doi.org/10.1038/447125b
Published:

Issue Date:

DOI: https://doi.org/10.1038/447125b