Australian brewer Foster's is planning to install a 2,500-litre bacterial fuel cell at its Brisbane plant, to produce clean energy from sugary waste water...
...While German drinkers are facing the sobering prospect of a price hike for their favourite brew, as many of the country's barley farmers are switching to heavily subsidized biofuel crops.
"A scientist by day, he is a lead Chippendale dancer by night."
Promotional material for the US reality-TV show Pirate Master describes John Lakness, who will compete with 15 others for a $1- million prize. Lakness reportedly studied electrical engineering at Rensselaer Polytechnic Institute.
Homo floresiensis fans will be excited to learn that the tiny hominins have spawned a novel, Flores Girl — and it's free to download at http://www.floresgirl.com. Author Erik John Bertel promises that a sequel is already under way.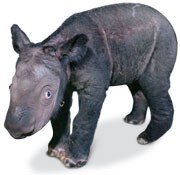 Rhino record
Emi, a Sumatran rhino at Cincinnati Zoo, has given birth to a record-breaking third calf (pictured). The proud mum is the first of this species to bear more than a single calf in captivity.
Sources: Associated Press, Czech Business Weekly, CBS
About this article
Cite this article
Sidelines. Nature 447, 125 (2007). https://doi.org/10.1038/447125b
Comments
By submitting a comment you agree to abide by our Terms and Community Guidelines. If you find something abusive or that does not comply with our terms or guidelines please flag it as inappropriate.