An analysis of the distribution of helium-isotope ratios in oceanic extrusions from Earth's mantle seems to establish a connection with the spread of ages in continental crust. What mechanism might underlie this?
Access options
Subscribe to Journal
Get full journal access for 1 year
$199.00
only $3.90 per issue
All prices are NET prices.
VAT will be added later in the checkout.
Tax calculation will be finalised during checkout.
Buy article
Get time limited or full article access on ReadCube.
$32.00
All prices are NET prices.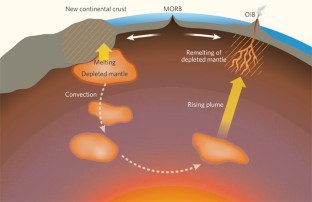 References
Parman, S. W. Nature 446, 900–903 (2007).

Graham, D. W., Lupton, F., Albarède, F. & Condomines, M. Nature 347, 545–548 (1990).

Parman, S. W., Kurz, M. D., Hart, S. R. & Grove, T. L. Nature 437, 1140–1143 (2005).

Heber, V. S., Brooker, R. A., Kelley, S. P. & Wood, B. J. Geochim. Cosmochim. Acta 71, 1041–1061 (2007).

Condie, K. C. Earth Planet. Sci. Lett. 163, 97–108 (1998).

Kemp, A. I. S., Hawkesworth, C. J., Paterson, B. A. & Kinny, P. D. Nature 439, 580–583 (2006).

van Keken, P. E., Hauri, E. H. & Ballentine, C. J. Annu. Rev. Earth Planet. Sci. 30, 493–525 (2002).
About this article
Cite this article
Porcelli, D. When crust is bred. Nature 446, 863–864 (2007). https://doi.org/10.1038/446863a
Published:

Issue Date:

DOI: https://doi.org/10.1038/446863a