Co-founder of European Academy of Sciences comes under scrutiny.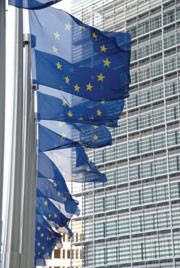 Anti-fraud officials are investigating one of the founders of a controversial science academy over allegations concerning financial irregularities in European research projects, Nature has learned.
Staff at the European Anti-Fraud Office in Brussels have launched an investigation into allegations made against geophysicist Philip Carrion. The office, set up in 1999, has the power to investigate allegations of misuse of European Commission (EC) funds. Spokeswoman Ingeborg Gaspard, confirming that an investigation was ongoing, would not give details of the research involved. But Nature has identified three projects involving Carrion, all funded by the EC's Framework programme for research, in which disputes over finances have arisen and complaints been made to the commission. Carrion rejects all allegations of financial impropriety and says he welcomes the investigation as a chance to clear up the disputes.
Carrion first came to the attention of the science community in 2002, after Nature investigated the European Academy of Sciences (EAS). The invitation-only academy, which Carrion helped establish in 2002, claimed to have been founded to bring together scientists in Europe and elsewhere, but at the time it seemed to have no publications, projects or meetings, despite listing 600 members (see Nature 419, 865; 2002). Some researchers named as members, including Nobel laureates, said at the time that they had never heard of the organization.
But Carrion and his colleagues have continued to develop the academy, which is based in Liège, Belgium, where Carrion lives. According to the academy's president, Hélène de Rode, a lawyer with Musch, de Pierpont, de Rode, Lahaye in Liège, the academy now has around 650 members. It publishes newsletters and a journal, Annals. But Carrion's role as a member of the academy's executive committee ended when he resigned on 16 February. Carrion says he had spent years working for the academy for free and did not want to go on giving his time for nothing. De Rode declined to expand on the reasons for his departure.
Before Carrion's resignation, the academy's website listed him as a professor at the University of Udine, Italy. Gaetano Russo, head of the university's civil-engineering department, says that Carrion was given visiting professor status between 2001 and 2004 in order to work on a project on advanced aluminium alloys. Russo says Carrion agreed to run mechanical tests at Udine that he failed to carry out, and then asked Russo to sign an agreement saying the work had been done and requesting payment of €100,000 (US$130,000) from the EC, to be split between them. Russo declined to sign, and in June 2005 wrote to the commission to make clear that the work had not taken place. For his part, Carrion says he never asked for money and that the Udine lab was not used in the alloys project because it did not have the right equipment.
More recently, disputes have arisen between Carrion and André Leclercq, a human-resources manager with the steel company Arcelor in Liège. Leclercq says he employed Carrion in 2005 as a technical manager on a Framework-funded project on thin-film technology. He says he was introduced to Carrion through the academy.
Carrion says that as part of his role in the Framework project, he agreed to carry out a marketing study and develop a business plan for Api, a business-development organization based in Ancona, Italy, and a partner in the project. He also says he agreed to manage a bank account into which payments for Api's work would be made.
Leclercq says that an advance of €479,000 of EC money was paid in July 2005 into the account controlled by Carrion, in part to pay for the business plan and marketing study. Carrion says he completed the full documents last November, but Leclercq did not receive them until 9 March. By this time a complaint had been made to the commission and a second payment withheld. Carrion adds that he has received no money from the Api account he controls and has still not been paid for his work. Api could not be reached for comment.
A third complaint concerning a project involving Carrion was made in July 2006. Stan Veprek, a materials scientist at the Technical University of Munich, says he contacted the commission after becoming concerned over Carrion's financial management of a project to develop new machine tools. During the project, some funds were transferred into an account named "EAS", but Carrion says these have now been repaid. Carrion adds that a disagreement over payments arose because Veprek did not do the work required. Veprek denies this.
Although no other members of the academy have been linked to the allegations made against Carrion, the organization itself has been the subject of intense criticism from its members. The academy's journal Annals is not listed on indexes such as PubMed, and it organizes meetings only infrequently. Boris Verkhovsky, a computer scientist at the New Jersey Institute of Technology in Newark, who has openly clashed with de Rode in the past, speaks for many members when he complains of a lack of transparency about the decisions made by the organization's executive committee.
De Rode says she has received no official communication from the commission and cannot comment on the investigation or a possible link to Carrion's departure.
On the future of the academy, she says: "There is no link between the well-being and future of the EAS to one of its past executives, Professor Carrion. The same observation applies to Professor Verkhovsky. Both of them were active in the establishment of our academy, but, as time went on, their personal involvement was duly replaced by the activity of committees, which is perfectly normal. The EAS is fulfilling its mission admirably, and the best is still to come."
Related links
Related links
Related links in Nature Research
Related external links
About this article
Cite this article
Giles, J. Geophysicist faces probe into use of research funds. Nature 446, 236–237 (2007). https://doi.org/10.1038/446236a
Published:

Issue Date:

DOI: https://doi.org/10.1038/446236a