Governors team up for cap-and-trade programme.
If the federal government doesn't get its act together on carbon trading, individual US states will come together to decide policy instead. That was the clear message when the governors of five western states — Washington, Oregon, California, Arizona and New Mexico — signed an agreement on 26 February to create their own carbon cap-and-trade programme. The move parallels a similar scheme developed by northeastern states; together the two regions account for nearly a quarter of US carbon emissions.
As California's governor Arnold Schwarzenegger puts it: "This agreement shows the power of states to lead our nation in addressing climate change."
The western group is moving relatively quickly. It also intends to go further than the northeastern scheme, the ten-state Regional Greenhouse Gas Initiative (RGGI), which focuses on the electricity industry. "Within 18 months, we want to return with a design for a multi-sector, market-based system," says Dan Skopec, an undersecretary at the California Environmental Protection Agency. Each state will set its own caps.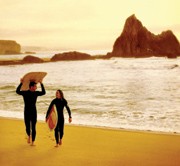 California was already devising a market approach to managing emissions. But some worried that regulated companies would leave the state to avoid being capped. The new scheme, the Western Regional Climate Action Initiative (WRCAI), has nearly all the states that border California on board, so such leakage seems unlikely. The exception is Nevada, but Skopec says he still hopes it will join.
In the electricity sector, the WRCAI may operate differently to RGGI. Starting in 2009, RGGI will cap companies that generate energy, and they must then either ramp down operations, invest in cleaner technologies, or buy offsets to meet their targets. California had favoured the idea of capping the distributors who sell electricity to the customer, to cover all electricity sold in the region no matter where it was produced. But with neighbouring states on board as well, the scheme may stick to capping the generators.
On a national level, the Democratic Congress is holding hearings and proposing bills on emissions at a breakneck pace, but even with the new initiative, the crucial 60 votes needed in the Senate look unlikely to be found. As such schemes become more popular, however, pressure will mount on the federal government to come up with a cap-and-trade scheme or risk having states do it for them.
According to the Pew Center on Global Climate Change, if all the states in the two regional schemes counted as a country they would be the world's fourth largest emitter. "At some point you have critical mass. At some point you have enough of a system that it just becomes the standard, and states sign on voluntarily or the federal government will just adopt it," says Véronique Bugnion, the Washington DC-based director of research for emissions trading consultants Point Carbon.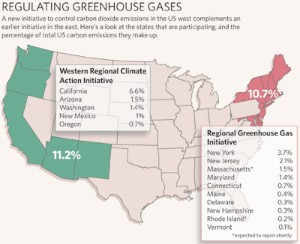 To help reach that critical mass, the two schemes may link up, and perhaps even join forces with the European Union (EU) Emission Trading Scheme. "The bigger the market, the more cost-effective reductions are available," says John Larsen, a research analyst at the World Resources Institute, an environmental group in Washington DC. "It will be interesting to see how they move forward and who they talk to."
Skopec says that California is already moving towards this, but there are some potential hitches. One problem is the different way the schemes are regulated. For example, if more states joined the two US groups, electricity generated in a RGGI state and exported to a state in the WRCAI, which may regulate distributors, could potentially be counted twice.
And differences in how tough the caps are could set up a lopsided situation in which companies in low-cap areas keep buying credits from high-cap areas. "You have to link equivalents," says Bugnion. "If one system is more stringent than another, the credits will only flow one way." There's also the problem that the EU trading scheme operates under the aegis of the Kyoto Protocol, a treaty that the United States hasn't ratified and that individual US states cannot join.
A looser form of linking may be easier. The RGGI plan already allows the purchase of offset credits from projects certified by the Clean Development Mechanism, an apparatus of the Kyoto Protocol. A shared pool of available offsets can bring prices in the separate markets closer together, even if they aren't linked directly.
Related links
Related links
Related links in Nature Research
Related external links
About this article
Cite this article
Marris, E. Western states launch carbon scheme. Nature 446, 114 (2007). https://doi.org/10.1038/446114a
Further reading
Christine Negra

,

Caroline Cremer Sweedo

,

Kent Cavender-Bares

&

Robin O'Malley

Journal of Environmental Quality (2008)
Comments
By submitting a comment you agree to abide by our Terms and Community Guidelines. If you find something abusive or that does not comply with our terms or guidelines please flag it as inappropriate.