As massive ice sheets grew on Antarctica during the first major glaciation of the Cenozoic era, the northern continents cooled and dried. The coincidence in timing implies that the cause was global rather than regional.
Access options
Subscribe to Journal
Get full journal access for 1 year
$199.00
only $3.90 per issue
All prices are NET prices.
VAT will be added later in the checkout.
Tax calculation will be finalised during checkout.
Buy article
Get time limited or full article access on ReadCube.
$32.00
All prices are NET prices.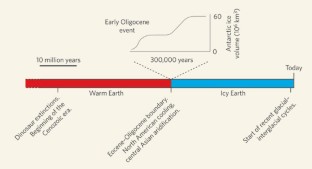 References
Coxall, H. K., Wilson, P. A., Pälike, H. & Lear, C. H. Nature 433, 53–57 (2005).

Dupont-Nivet, G. et al. Nature 445, 635–638 (2007).

Zanazzi, A., Kohn, M. J., MacFadden, B. J. & Terry, D. O. Jr Nature 445, 639–642 (2007).

Kennett, J. P. J. Geophys. Res. 87, 3843–3860 (1977).

Sijp, W. P. & England, M. H. J. Phys. Oceanogr. 34, 1254–1266 (2004).

Meng, J. & McKenna, M. C. Nature 394, 364–367 (1998).

Lear, C. H., Elderfield, H. & Wilson, P. A. Science 287, 269–287 (2000).

Prothero, D. R. & Berggren, W. A. (eds) Eocene–Oligocene Climatic and Biotic Evolution (Princeton Univ. Press, 1992).

Ivany, L. C., Patterson, W. P. & Lohmann, K. C. Nature 407, 887–890 (2000).

Huber, M. et al. Paleoceanography 19, 1–12 (2004).

DeConto, R. M. & Pollard, D. Nature 421, 245–249 (2003).

Pagani, M., Zachos, J. C., Freeman, K. H., Tipple, B. & Bohaty, S. Science 309, 600–603 (2005).
About this article
Cite this article
Bowen, G. When the world turned cold. Nature 445, 607–608 (2007). https://doi.org/10.1038/445607a
Published:

Issue Date:

DOI: https://doi.org/10.1038/445607a
This article is cited by
LiJie Wei
XiaoHan Liu
XueJun Zhou

Science China Earth Sciences (2011)

Junling Pei
Zhiming Sun
Jialiang Si

Journal of Earth Science (2009)