Molecular investigations of the origin of the dorso-ventral axis in an obscure marine invertebrate illuminate one of the longest-running debates in evolutionary biology — that over the origin of vertebrates.
Access options
Subscribe to Journal
Get full journal access for 1 year
$199.00
only $3.90 per issue
All prices are NET prices.
VAT will be added later in the checkout.
Tax calculation will be finalised during checkout.
Buy article
Get time limited or full article access on ReadCube.
$32.00
All prices are NET prices.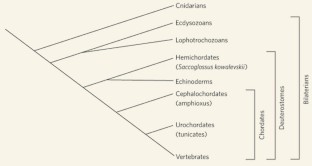 References
Lowe, C. J. et al. PLoS Biol. 4, 1603–1619 (2006).

Geoffroy Saint-Hilaire, E. Mém. Hist. Nat. 9, 89–119 (1822).

Gee, H. Before the Backbone: Views on the Origin of the Vertebrates (Chapman & Hall, London, 1996).

Halanych, K. M. et al. Mol. Phyl. Evol. 4, 72–76 (1995).

Metchnikoff, V. E. Zool. Anz. 4, 139–157 (1881).

De Robertis, E. M. & Sasai, Y. Nature 380, 37–40 (1996).

Holland, L. Z. et al. Nature doi:10.1038/nature05472 (in the press).

Bourlat, S. J. et al. Nature 444, 85–88 (2006).

Dehal, P. et al. Science 298, 2157–2167 (2002).

Sea Urchin Genome Sequencing Consortium Science 314, 941–952 (2006).

Stebbing. T. R. R. Proc. L inn. Soc. Lond. 122, 9–50 (1910).
Additional information
Henry Gee is a Senior Editor of Nature.
About this article
Cite this article
Gee, H. This worm is not for turning. Nature 445, 33–34 (2007). https://doi.org/10.1038/445033a
Published:

Issue Date:

DOI: https://doi.org/10.1038/445033a
This article is cited by
Theory in Biosciences (2011)