Metagenomics and variomics benefit from round of grants.
Metagenomics and the human variome project can expect substantial boosts in the European Union's next round of science funding, starting this month.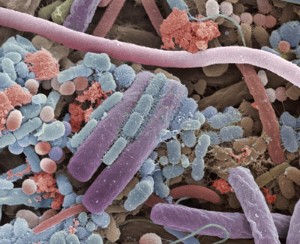 Unlike its predecessors, which covered five-year periods, Framework Programme 7 (FP7) runs for seven years, until 2013. It has a budget of more than €50 billion (US$66 billion), of which two-thirds is earmarked for large public–private collaborations in ten areas, including health, transport and nanoscience.
The first calls for proposals went out on 22 December. For the health theme, the focus is on big biology. A planned metagenomics project, one large topic for the first call, aims to study the vast community of microbes living in the human body, which are thought to influence physiology, nutrition and immunity.
"There are some two kilograms of microorganisms living in the human body," says Dusko Ehrlich, a microbial geneticist at the French agricultural research agency INRA in Jouy-en-Josas. Most of them can't be grown in the lab: "We just don't know what's in there." Proposals are requested for projects to sequence the microbial genes present in the body, which are thought to outnumber our own genes by a factor of 100.
Another project earmarked for funding will support the global human variome project, which was launched in Melbourne, Australia, last June. The variome is the set of variations between different people's genomes, which influence the development of disease and drug side-effects. As yet there is no global system for collecting and sharing information on the human variome; FP7 promises to support one.
FP7 also provides €7.5 billion for a new Europe-wide funding agency called the European Research Council (ERC), which launches this month. The council will fund smaller projects that do not meet the industrial or societal goals required by the rest of the framework programme.
Related links
Related links
Related links in Nature Research
Related external links
About this article
Cite this article
Eichinger, N. European funding targets big biology. Nature 445, 8–9 (2007) doi:10.1038/445008b
Further reading
NTM Zeitschrift für Geschichte der Wissenschaften, Technik und Medizin (2016)
Comments
By submitting a comment you agree to abide by our Terms and Community Guidelines. If you find something abusive or that does not comply with our terms or guidelines please flag it as inappropriate.