The material used by the old masters to make exquisite violins may have been chemically manipulated.
Abstract
Whether or not the great Italian violin-makers used wood that had been chemically processed in order to preserve it and enhance the instrument's sound quality has long been a contentious issue1,2. Here we use nuclear magnetic resonance and infrared spectroscopy to analyse organic matter in wood taken from antique instruments made by Stradivari and Guarneri del Gesu. Our results indicate that the wood used by the masters could indeed have been chemically treated, a technique that may inspire an approach to violin making that is more chemistry-based.
Access options
Access options
Subscribe to Journal
Get full journal access for 1 year
$199.00
only $3.90 per issue
All prices are NET prices.
VAT will be added later in the checkout.
Rent or Buy article
Get time limited or full article access on ReadCube.
from$8.99
All prices are NET prices.
References
1

Gough, C. Phys. World http://physicsweb.org/articles/world/13/4/8 (April 2000).

2

Nagyvary, J. Edu. Chem. 42, 96–98 (2005).

3

Kolodziejski, W., Frye, J. S. & Maciel, G. E. Anal. Chem. 54, 1419–1424 (1982).

4

Kosikova, B., Hricovini, M. & Cosentino, C. Wood Sci. Technol. 33, 373–380 (1999).

5

Orton, C. R., Parkinson, D. Y., Evans, P. D. & Owen, N. L. Appl. Spectrosc. 58, 1265–1271 (2004).

6

Anderson, E. L., Pawlak, Z., Owen, N. L. & Feist, W. C. Appl. Spectrosc. 45, 641–647 (1991).

7

Sacconi, S. F. I "Segreti" di Stradivari (Libreria del Convegno, Cremona, 1972).

8

Haines, D. W. Catgut Acoust. Soc. Newslett. 33, 19–23 (1980).
Supplementary information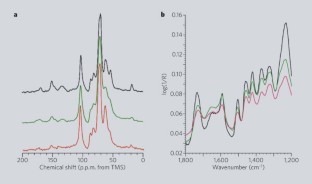 Comments
By submitting a comment you agree to abide by our Terms and Community Guidelines. If you find something abusive or that does not comply with our terms or guidelines please flag it as inappropriate.