The beauty of a rocket engine designed by Valentin Glushko lies in its functionality.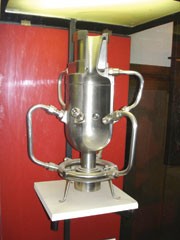 How and when does a utilitarian piece of technology become an object of beauty? This question was triggered by an early rocket engine designed by Valentin Petrovich Glushko (1908–89) that is on display in the Museum of Space Exploration and Rocket Technology in St Petersburg.
Glushko's 'Rocket Motor 50' (shown here), elegantly sectioned to disclose the chamber where paraffin and nitric acid mixed, sits gleaming on a white plinth in a museum case. It was invented for a rocket conceived by Mikhail Tikhonravov, a visionary advocate of space travel. To eyes attuned to the aesthetic delights of high-tech objects by generations of twentieth-century artists, such as Russian sculptor Naum Gabo, this is a beautiful object.
Glushko, born in the Ukrainian city of Odessa, pioneered electric and liquid propulsion systems at the Gas Dynamics Laboratory, which then occupied the site of the present museum on Peter the Great's fortified island of Zayatchy. In 1935 he published his book Rockets, their Construction and Utilization.
Although imprisoned during a Stalinist purge, Glushko returned to become the leading engine designer for the Soviet missile and space programme. A falling-out with rocket designer Sergei Korolev, over the right propellants for the ill-fated Moon programme, left him sidelined again, but after Korolev's death he returned to head the space bureau.
It seems that Glushko's engine designs were concerned solely with function. So is there even the slightest justification for seeing his rocket engines as anything other than obsolete relics of a great technological adventure?
There seem to be two reasons why our fascination with such relics goes beyond historical curiosity. The first is largely superficial: there is an undeniable romantic attraction to old technologies, once modern but now quaint. The crowds at shows of veteran cars or early aeroplanes testify to the emotional pull of antique machinery. An early electron microscope in a science museum exudes an air of nostalgic quaintness, even for spectators who know little of the history of such devices. Such items have acquired a 'period style' that speaks eloquently of their eras.
The Glushko engine, however, has little period style, so the second factor must predominate. This is what I call the aesthetic of ineffable rightness. Supreme designs in technology and the applied arts often exude an intense air of inevitability. Once invented, we can see that the design presents an optimal solution that transcends the idiosyncrasies of its human designer. In relation to function and materials, we can intuit that the solution presented is the right one.
The form of Glushko's engine is dictated by technical parameters, such as the angles and bends of the pipes that feed fuel to the central cylinder. They were not designed to look good — but they do.
At a time when the United States is contemplating manned expeditions to Mars, those motivations that lie outside the strict scientific imperatives again come to the fore. The aesthetics of space flight — the beauty of the technology, whether sleek or quirky — are important if the programmes are to garner public support.
Was Glushko himself solely driven by scientific and technological imperatives? My guess, looking at his Rocket Motor 50, is that he was deeply engaged with the visual 'rightness' of his invention as an integral component in his quest for functionality.