One US nanotechnology start-up has hit the jackpot — but for others the prospect of such overnight success seems remote. Colin Macilwain reports.
The guys in the aisle at Home Depot don't know it. But that $800 DeWalt cordless power-tool set — the one they really want for Christmas, but are just too scared to ask for — gets its butt-kicking oomph from a Nature Materials paper published only four years ago.
It's taken that time for a battery cathode based on phosphate nanocrystals to rip its way from a lab at the Massachusetts Institute of Technology (MIT) in Cambridge, through financing, design, development and manufacture in east Asia, to its current position, driving 36-volt power tools from Black & Decker — owner of the DeWalt professional-grade marque.
"These tools are better than corded ones," says Jamie Mann, director of sourcing for Black & Decker in North America. "And they can take 2,000 recharges. That's big for us — we think it's changed the game."
The company that builds the nanophosphate batteries, A123Systems in Watertown, Massachusetts, was founded in 2002 and has US$100 million worth of orders in hand. It's an instant success story, and one that impressed investors gathered in Cambridge, Massachusetts, last week for the Lux Research Executive Summit, a meeting of the great and the would-be great in the fledgling nanotech sector.
But the MIT spin-off's success won't be matched by most of the estimated 1,500 start-up companies in the sector, the meeting was told. "In every new industry, you have an initial hype, and then a shake-out," says Charles Seeney, president of NanoBioMagnetics, an Oklahoma-based health-products company. "The same thing is going to happen in nanotechnology."
For those that do survive, partnerships with major corporations — like A123Systems' with Black & Decker — will probably hold the key.
Not that A123's founders — materials scientists Yet-Ming Chiang and Bart Riley, and Ric Fulop, an entrepreneur and business fellow at MIT — had much idea initially where their dramatic success was going to come from. They had solid hopes for the company, and attracted an accomplished business manager — David Vieau, a mechanical engineer with extensive high-technology experience — to come and run it. But the power-tool breakthrough was unexpected: "We were considering things with motors — we thought a lot about hybrid vehicles," recalls Vieau. "We didn't know where our optimum performance advantage would lie."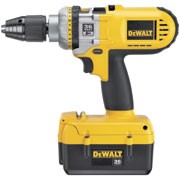 Big boys' toys: but there's nanotechnology inside.
The Nature Materials paper outlined the basic idea, showing how tiny lithium iron phosphate crystals could be 'doped' to conduct electricity, and proposing that they be used to make battery electrodes (S.-Y. Chung, J. T. Bloking & Y.-M. Chiang Nature Mater. 1, 123–128; 2002). Conventional lithium-ion batteries use particles of lithium cobalt oxide about a micrometre across: if they were smaller their electrical conductivity would improve but so would their thermal conductivity — raising possible safety issues. The new material is more chemically stable, and its performance can be optimized by using crystals that are only a few nanometres across. The result prompted fierce controversy over the mechanism that lay behind it (Nature Mater. 2, 702–703; 2003).
Chiang says the idea for the venture came when Fulop had walked into his office, and said: "How about starting a battery company?"
"It is one of the easiest things in the world to explain why we need better batteries. Yet-Ming Chiang"
The company didn't take long to get rolling. Chiang felt that it would be a far easier sell than the high-temperature superconducting wire made by his previous start-up, American Superconductor. There, he recalls, he was selling mainly to "utilities that run on 25-year-old technology". Whereas with the new business, "it is one of the easiest things in the world to explain why we need better batteries". The company was taking shape before the paper was published: it hired Vieau in March 2002 and quickly obtained backing from a loyal clutch of investors, including North Bridge Venture Partners of Boston, Sequoia Capital of Menlo Park, California, and investor Desh Deshpande, who became company chairman.
At the time, Black & Decker was searching for a breakthrough that would get it a jump ahead in the fast-expanding cordless power-tool business. "We were scouring the Earth," says Mann. After meeting with the young company, "we were excited, but extremely cautious," he recalls. "We're a $5-billion company, and this was ten guys from Boston! It looked like a good bet, but there was a lot of risk."
The odds were lengthened by the nature of the lithium-ion battery business, which is dominated by huge Japanese corporations, such as Sony, with deep pockets and large, intramural research efforts of their own. Patent lawyers trawled to see if these companies were onto the phosphates breakthrough. But they weren't.
Mann told Vieau that, if they could succeed in making the powder in bulk, there was potential for a deal. By early 2004, A123Systems could make 1 kg of the compound a month — with a manufacturer in Taiwan that promptly went bust. The company raised a further $20 million to keep itself going, made its first battery prototypes, and in May 2005 signed an agreement with Black & Decker.
This agreement precludes A123Systems from selling the technology to Black & Decker's rivals while assuring volume sales for its batteries. It's a type of arrangement that is increasingly fundamental to the prospects of nanotechnology start-ups. Black & Decker raised the idea of taking an equity stake, but the small company demurred (Motorola, the electronics company, already has a shareholding). A public share offering is being considered, Vieau says, but is at least 12 months away.
This runaway success is, to put it mildly, atypical of a nanotech start-up. Lux Research, the New York consultancy that organized the Cambridge meeting, has just tried to grade the attractiveness as corporate partners of 136 companies that have venture-capital backing. A123Systems tied second with Aspen Aerogels, an insulation company based in Northborough, Massachusetts. NanoOpto, an optical-equipment supplier in Somerset, New Jersey, came out top.
The fashionable nanotech label doesn't always help in impressing investors. The phrase "is a fantastic indicator of where innovation is coming from", says Greg Schmergel, president of memory-chip firm Nantero in Woburn, Massachusetts. But when it gets down to nitty-gritty, he quips, "I've always found that being a nano-technology company is a great help — for about the first minute of a meeting with investors."
But supporters maintain that nanotech is coming of age. "Nanotechnology's time is now," claims Lux Research president Matthew Nordan, who says the field is at "an inflexion point", after which "discovery continues, but it gets eclipsed by commercialization".
The chemistry of a deal with a larger partner matters just as much as the chemistry in the lab. As Mann and Vieau run through their partnership's short but lively history, the mutual respect and understanding between the two is palpable.
But the real key to success is to provide a solution to a real need, whether it's for healthcare or for electric drills. The best-equipped outfits, according to Ken Morse, director of the MIT Entrepreneurship Center, "are not in the nanotech business — they are in the solutions business."