These monstrous birds were probably more agile and less portly than previously thought.
Access options
Subscribe to Journal
Get full journal access for 1 year
$199.00
only $3.90 per issue
All prices are NET prices.
VAT will be added later in the checkout.
Rent or Buy article
Get time limited or full article access on ReadCube.
from$8.99
All prices are NET prices.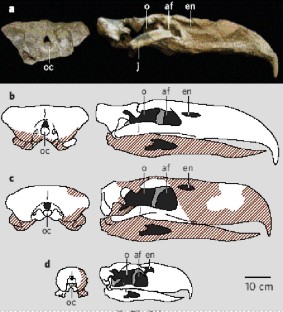 References
1

Feduccia, A. The Origin and Evolution of Birds (Yale Univ. Press, New Haven, 1999).

2

Marshall, L. G. Sci. Am. 270, 90–95 (1994).

3

Alvarenga, H. & Höfling, E. Pap. Avulsos Zool. 43, 55–91 (2003).

4

Kraglievich, L. An. Mus. Hist. Nat. Montevideo 3, 323–353 (1932).

5

Gould, G. C. & Quitmyer, I. Bull. Fla Mus. Nat. Hist. 45, 201–229 (2005).

6

Livezey, B. C. Trans. Zool. Soc. Lond. B 353, 2077–2151 (1998).

7

Sinclair, W. J. & Farr, M. S. in Reports of the Princeton University Expeditions to Patagonia, 1896–1899 (ed. Scott, W.) 157–191 (Princeton Univ. Press, New Haven, 1932).

8

Patterson, B. & Kraglievich, J. L. Publ. Mus. Mun. Cienc. Nat. Trad. Mar del Plata 1, 1–52 (1960).

9

Ameghino, F. Bol. Inst. Geogr. Argent. 15, 501–602 (1895).

10

Andrews, C. W. Trans. Zool. Soc. Lond. 15, 55–86 (1899).

11

Tonni, E. P. Nat. Hist. Mus. Los Angeles County 330, 105–114 (1980).

12

Tambussi, C. & Noriega, J. in Contributions of Southern South America to Vertebrate Paleontology (ed. Arratia, G.) 245–264 (Müncher Geowiss, München, 1996).

13

Alvarenga, H. An. Acad. Bras. Cienc. 54, 697–712 (1982).
Ethics declarations
Competing interests
The authors declare no competing financial interests.
About this article
Cite this article
Chiappe, L., Bertelli, S. Skull morphology of giant terror birds. Nature 443, 929 (2006) doi:10.1038/443929a
Received

Accepted

Published

Issue Date
Comments
By submitting a comment you agree to abide by our Terms and Community Guidelines. If you find something abusive or that does not comply with our terms or guidelines please flag it as inappropriate.