Increase in applications sees funding rate plummet.
Seven thousand fewer people showed up at this year's Society for Neuroscience meeting than last year. That still left 21,000 researchers attending one of the most popular conferences in biomedicine. But hallway gossip swirled around one possible cause for the drop-off — money, in the form of grants from the US National Institutes of Health (NIH).
"Dollars come to mind," says Jeffrey Rothstein, a neurologist at Johns Hopkins University in Baltimore, Maryland. "The field has expanded and we now have less money per person."
Rothstein's comments explain an apparent paradox: the annual budget for the NIH doubled between 1998 and 2003, and now stands at $28.6 billion. But many researchers are finding it far more difficult to win grants. This is because universities invested hugely in infrastructure and workforce once the doubling began, which led to an explosive growth in grant applications. In 1998, the NIH received 24,000 grant applications; this year the number is 46,000 and is forecast to reach 49,000 in 2007.
Two other metrics have also changed, helping to create the perfect storm. Average grant sizes have grown by 40% since the doubling began, from $275,000 in 1998 to $400,000 today; and Congress has stopped increasing the NIH budget. So the agency's buying power has fallen in real terms by 5.5% since the doubling ended in 2004.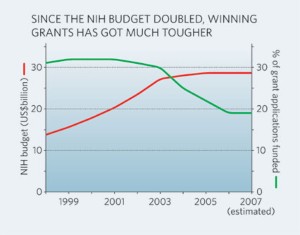 "Nobody's bottom-line model showed funding decreasing after the doubling. We were talking about modest increases, not the floor falling out," says Tony Mazzaschi of the Association of American Medical Colleges (AAMC) in Washington DC.
In a speech at the neuroscience meeting, NIH institute heads acknowledged the inevitable outcome: the success rate for grant applications across the agency dropped from 31% in 1998 to 23% last year (see graph). Next year, this is expected to fall to 19%. "We have really good grants that we can't afford to pay," says Story Landis, head of the National Institute of Neurological Disorders and Stroke. "The demand took off just as the NIH budget was landing."
With Congress highly unlikely to hand the NIH another significant increase in the near future, researchers and agency officials are considering how to adjust the funding system. Some are dubious that much pain can be avoided. "I personally don't see a terribly satisfying solution," says David Korn, former dean of the Stanford University School of Medicine in California and a top official at the AAMC who has studied the issue extensively.
Elias Zerhouni, the NIH director, is battling to counter that notion with a number of short-term strategies, especially for first-time applicants and those fighting to get expiring grants renewed. "My main concern is the individual investigator whose lab might close because of the gap in funding," he says. This year, Zerhouni cut all existing grants by 2.35%, to free up money for new grants and grants competing for renewal. He will also use funds from expiring grants to gain a 3% boost in the number of new and competing grants awarded next year.
For some, these measures will be too little, too late. Rothstein says that he may have to lose staff and is already seeing "pruning" in other labs. His brother Jay, a cancer researcher at Thomas Jefferson University in Philadelphia, Pennsylvania, will quit for the pharmaceutical company Amgen early next year, in part because of the struggle to get funding. He notes that few graduate students at his university plan to remain in academia: "People see how hard it is to run a lab."
After the NIH presentation at the neuroscience meeting, Peter Cariani spoke up. He studied spinal-cord regeneration at Tufts Medical School in Boston, Massachusetts, until his lab ran out of funding two months ago. He won applause for suggesting that the NIH should "make it harder for the rich to get progressively richer". Like others present, he feels that big labs hoover up too many grants, forcing teams like his out of the game. He wants the criteria for second and subsequent grants to be set higher than for an initial application.
Zerhouni cautions that such proposals put key research decisions into the wrong hands. "It would be very dangerous to dictate by bureaucratic fiat that somebody who is meritorious should not be funded because they have a grant or two. The peer reviewers are smart enough to know if someone is being overfunded or not."
He hopes scientists will stick out the hard times: "We still have the largest research budget on Earth: $28.6 billion is larger than all other countries combined. If you believe in your research, don't give up on it. Things are not great. But they are not as desperate as some people portray them to be."
Related links
Related links
Related links in Nature Research
Related external links
About this article
Cite this article
Giles, J., Wadman, M. Grants fall victim to NIH success. Nature 443, 894 (2006). https://doi.org/10.1038/443894a
Published:

Issue Date:

DOI: https://doi.org/10.1038/443894a