Zeolites are materials with widespread applications. A newly synthesized example has desirably large pores, as well as the virtue of thermal stability, and shows the value of structure-prediction programs.
Access options
Subscribe to Journal
Get full journal access for 1 year
$199.00
only $3.90 per issue
All prices are NET prices.
VAT will be added later in the checkout.
Tax calculation will be finalised during checkout.
Buy article
Get time limited or full article access on ReadCube.
$32.00
All prices are NET prices.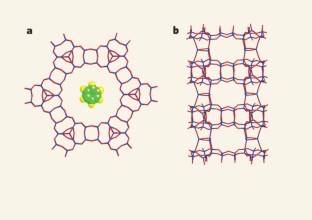 References
Corma, A., Díaz-Cabañas, M. J., Jordá, J. L., Martínez, C. & Moliner, M. Nature 443, 842–845 (2006).

Davis, M. E., Saldarriaga, C., Montes, C., Garces, J. & Crowder, C. Nature 331, 698–699 (1988).

Burton, A. et al. Chem. Eur. J. 9, 5737–5748 (2003).

Strohmaier, K. G. & Vaughan, D. E. W. J. Am. Chem. Soc. 125, 16035–16039 (2003).

Corma, A. & Davis, M. E. ChemPhysChem 5, 304–313 (2004).

McCusker, L. B., Baerlocher, C., Jahn, E. & Bulow, M. Zeolites 11, 308–313 (1991).

Treacy, M. M. J., Rivin, I., Balkovsky, E., Randall, K. H. & Foster, M. D. Micropor. Mesopor. Mater. 74, 121–132 (2004).

Kresge, C. T., Leonowicz, M. E., Roth, W. J., Vartuli, J. C. & Beck, J. S. Nature 359, 710–712 (1992).

Ruiz, A. Z., Li, H. R. & Calzaferri, G. Angew. Chem. Int. Edn 45, 5282–5287 (2006).
About this article
Cite this article
Lobo, R. The promise of emptiness. Nature 443, 757–758 (2006). https://doi.org/10.1038/443757a
Published:

Issue Date:

DOI: https://doi.org/10.1038/443757a