Witness a snail scraping microbial films from the inside of an aquarium. Go back 505 million years, and this looks to have been the way an enigmatic early animal made its living (but without the aquarium).
Access options
Subscribe to Journal
Get full journal access for 1 year
$199.00
only $3.90 per issue
All prices are NET prices.
VAT will be added later in the checkout.
Tax calculation will be finalised during checkout.
Buy article
Get time limited or full article access on ReadCube.
$32.00
All prices are NET prices.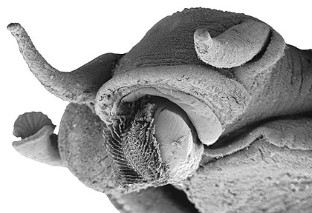 References
Caron, J. -B., Scheltema, A., Schander, C. & Rudkin, D. Nature 442, 159–163 (2006).

Conway Morris, S. Palaeontology 19, 199–222 (1976).

Briggs, D. E. G., Clarkson, E. N. K. & Aldridge, R. J. Lethaia 16, 1–14 (1983).

Müller, K. J. & Walossek, D. Trans. R. Soc. Edinb. Earth Sci. 76, 161–172 (1985).

Conway Morris, S., Peel, J. S., Higgins, A. K., Soper, N. J. & Davis, N. C. Science 326, 181–183 (1987).

Hou, X. & Sun, W. Acta Palaeontol. Sinica 27, 1–12 (1988).

Conway Morris, S. Phil. Trans. R. Soc. Lond. B 307, 507–586 (1985).

Eibye-Jacobsen, D. Lethaia 37, 317–335 (2004).

Butterfield, N. J. Paleobiology 16, 287–303 (1990).

Bengtson, S. in Evolving Form and Function: Fossils and Development (ed. Briggs, D. E. G.) 101–124 (Yale Peabody Mus., New Haven, CT, 2005).

Fedonkin, M. A. & Waggoner, B. M. Nature 388, 868–871 (1997).

Seilacher, A. Palaios 14, 86–93 (1999).
About this article
Cite this article
Bengtson, S. A ghost with a bite. Nature 442, 146–147 (2006). https://doi.org/10.1038/442146a
Published:

Issue Date:

DOI: https://doi.org/10.1038/442146a