Misconduct scandal delays Japan's research funding
Japanese research funding has been put on hold following a misconduct case involving Kazuko Matsumoto, a chemist at Waseda University in Tokyo.
Partly in response to the scandal, Japan's finance ministry has delayed distributing ¥10.6 billion (US$90 million) in grants to about 50 universities and research institutes. It has instead requested that they submit more detailed breakdowns on how they plan to use the money.
The decision comes after Matsumoto acknowledged misappropriating more than ¥14 million in research grants over the past few years. Late last month she offered to resign her university post, and has stepped down from her vice-presidency of the International Union of Pure and Applied Chemistry.
Waseda University is investigating further allegations that Matsumoto misappropriated more than ¥20 million and fabricated data.
Hurricane jet grounded over tussle with union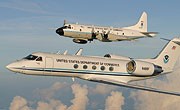 Some 'hurricane hunter' research flights have been grounded for being too dangerous. A US federal judge ruled on 30 June that the National Weather Service cannot send its Gulfstream jets to take measurements in a densely clouded region above the inner core of tropical storms. Flights may resume if the agency negotiates safe flying conditions with the labour union representing civilian members of the flight crews based in Tampa, Florida.
The decision applies only to the Gulfstream-IV jet, a lightweight plane that can fly at high altitudes. The Gulfstream is more susceptible to turbulence than the heavier WP-3D Orion, which is also used for storm research.
A National Weather Service spokesman, Jordan St. John, says that no plans have yet been made to negotiate with the union. But he adds that the agency still plans to equip the Gulfstream with an advanced Doppler radar system over the next few years, in the hope of flying it on the fringes of storms.
ESA astronaut set to boost science on space station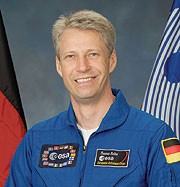 European Space Agency (ESA) astronaut Thomas Reiter arrived last week on the International Space Station. This takes the station crew up to three permanent members for the first time since May 2003, after the space shuttle Columbia disaster.
The German's arrival, on the space shuttle Discovery, should free up the crew to spend more time doing science. During the next five to seven months, as well as helping to maintain the space station, Reiter will participate in about 20 experiments for ESA's Astrolab mission, ranging from plasma physics to investigating the effects of weightlessness on human physiology.
Court settlement puts sea lions back under scrutiny
US researchers headed into the Pacific Ocean last week to begin studies of threatened Steller sea lions — the first that have been permitted since a court shut down their projects.
All Steller research was blocked in May after a 2005 Humane Society lawsuit alleged that the species could be harmed by the research procedures used by the US National Marine Fisheries Service (NMFS) (see Nature 441, 677; 2006).
An agreement between the Humane Society of the United States and the NMFS was approved in court on 30 June and allows for low-impact studies.
As part of the agreement, research methods such as hot branding, tooth extractions, and researchers entering rookeries will not be permitted. For now, air surveys and observational studies will be allowed. A comprehensive environmental analysis will also be conducted to determine the effects of recent studies on the mammals.
Hwang admits being responsible for faked data
In a court in South Korea last week, Woo Suk Hwang admitted to having overall responsibility for two fraudulent papers on human therapeutic cloning published in 2004 and 2005 in Science.
Hwang was indicted in May on three charges: embezzlement, for misusing government funds given for research; fraud, for using knowingly falsified data to secure funding from private companies; and breaking a bioethics law by paying for human eggs. He is pleading innocent on all counts.
Hwang admits to ordering the fabrication of some data, but he says he believed that the stem cells were real and that he was merely deceived by a junior researcher. He also claims that the cell line presented in 2004 was a clone, despite a Seoul National University investigation that determined it was not.
His lawyer, Geon Haeng Lee, explained Hwang's expenditures by saying that confusion arose after Hwang pooled his own personal money with research funds.
Lee announced two weeks ago that Hwang will begin research again this month with a group of about 30 researchers and private funding. Hwang would work with animal cells, having lost his licence to work with human subjects.
National Academy sees red over Mars missions
NASA should change its plans for exploring Mars in the coming decade, says a panel convened by the US National Academy of Sciences.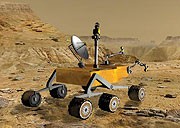 The agency's current vision "is not optimized" for maximizing the scientific output of future missions, the panel concluded in a 6 July report. It recommended bringing forward the launch date of a long-term sensor network to monitor the martian structure and weather. But it suggested delaying the Astrobiology Field Laboratory until 2018 to allow "an informed decision of its merits" as well as to consider how findings from the Mars Science Laboratory (pictured) might affect its mission.
The panel also called on NASA to step up technological development for future Mars missions, particularly one to bring back rocks from the red planet.
About this article
Cite this article
News in brief. Nature 442, 121 (2006). https://doi.org/10.1038/442121a
Published:

Issue Date:

DOI: https://doi.org/10.1038/442121a
Further reading
Ben A. Minteer
James P. Collins

Science and Engineering Ethics (2008)

Nature (2006)